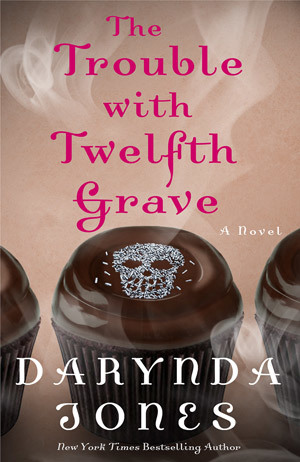 Book Genre: Urban Fantasy, Paranormal, Romance, Audiobook
Book Series: Charley Davidson #12
Released: 10/31/17 by St. Martin's Press
Pages: 289 Price: $26.99 Hardcover
Links:  Goodreads, Author's Site
Source: I borrowed this audiobook from my library.  
Book Synopsis:
Ever since Reyes Farrow escaped from a hell dimension in which Charley Davidson accidentally trapped him, the son of Satan has been brimstone-bent on destroying the world his heavenly Brother created. His volatile tendencies have put Charley in a bit of a pickle. But that's not the only briny vegetable on her plate. While trying to domesticate the feral being that used to be her husband, she also has to deal with her everyday life of annoying all manner of beings–some corporeal, some not so much–as she struggles to right the wrongs of society. Only this time she's not uncovering a murder. This time she's covering one up.

Add to that her new occupation of keeping a startup PI venture–the indomitable mystery-solving team of Amber Kowalski and Quentin Rutherford–out of trouble and dealing with the Vatican's inquiries into her beloved daughter, and Charley is on the brink of throwing in the towel and becoming a professional shopper. Or possibly a live mannequin. But when someone starts attacking humans who are sensitive to the supernatural world, Charley knows it's time to let loose her razor sharp claws. Then again, her number one suspect is the dark entity she's loved for centuries. So the question becomes: Can she tame the unruly beast before it destroys everything she's worked so hard to protect?

 
My Review:
I'm both excited and sad to have finished my reread of this series.  Sad because that means there is only one more book left and I have to wait until next year to read it.  Excited because the next book (fingers crossed) will be amazing and wrap up all the cliffhangers and plot threads that are left.
My opinion of the story hasn't changed since my initial review when I read it last year.  Still a hilarious read which might be even funnier when read to you.  I listened to the end of this while mowing the lawn yesterday and laughed so hard I ended up with a stitch in my side.  Also, probably looked like a fool on my riding lawnmower laughing my head off. Good thing I live in the country…
Since I don't have much to add to my thoughts on the book I'm going to encourage you to consider listening to this series.  I'm glad I did both and happy I read it first.  I worked through the series without outside influence mispronouncing names and locations like crazy.  Then I listened to the book, going in knowing I loved the series and was in for a funny, steamy, crazy ride.  It was a blast!  The narrator Lorelei King is an amazing talent and I have begun seeking out titles that she has recorded.  She breathes a story to life and was an excellent choice for this series!  In fact, if I was to rate this book now I would give it the full five stars, she brought so much to the story.  But I'm going to leave the rating as it is, just know I enjoyed to book more the second time thanks to Ms. King.
My Rating: 4 Stars