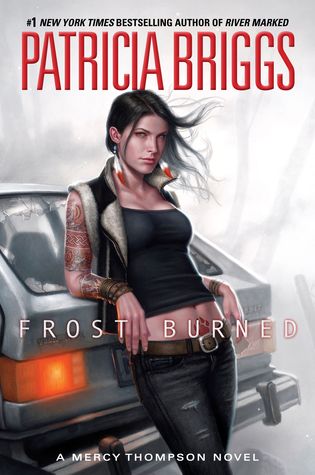 Book Genre: Paranormal, Urban Fantasy
Book Series: Mercy Thompson #7
Released: 3/5/13 by Ace Books
Pages: 342  Price: $26.95 Hardcover
Links:  Goodreads, Author's Site
Source: I borrowed this audiobook from my library. 
Book Synopsis:
Patricia Briggs's novel River Marked was praised as "an urban fantasy where our everyday world is believably twisted into the world of fey, werewolves, vampires, and myths made real." Now Mercy Thompson faces a shapeshifter's biggest fear as the realm she has embraced is thrown into chaos…

Mercy Thompson's life has undergone a seismic change. Becoming the mate of Adam Hauptman – the charismatic Alpha of the local werewolf pack – has made her a stepmother to his daughter Jesse, a relationship that brings moments of blissful normalcy to Mercy's life. But on the edges of humanity, a minor mishap on an ordinary day can turn into so much more…

After an accident in bumper-to-bumper traffic, Mercy and Jesse can't reach Adam – or anyone else in the pack for that matter. They've all been abducted.

Through their mating bond, all Mercy knows is that Adam is angry and in pain. But she fears Adam's disappearance may be related to the political battle the werewolves have been fighting to gain acceptance from the public – and that he and the pack are in serious danger. Outmatched and on her own, Mercy may be forced to seek assistance from any ally she can get, no matter how unlikely.
My Review:
Well, that was quick!  I believe I managed to listen to this book in just over a day.  There is a lot of drama in book seven, not that the other didn't have action but for some reason, this one felt more frantic.  Probably because most of the pack was missing and Mercy was on the run for much of the story.
Much of the book we are led to believe that the aggressors are a radical hate group bent on setting up the supernatural species as bad guys so they will be free to hunt them down for extermination.  A lot of events are alluded to that I believe probably took place in the spin-off series Alpha and Omega so it might be good to read both series in order of printing together and not separately.  I have a feeling the reader will benefit from watching all the events that affect both series as they unfold instead of simply being told about them.
At the end of the book, we learn who is truly pulling the strings regarding the pack's abduction and I won't spoil it for you.  It was an interesting battle scene, to say the least.  The pack loses an important but rarely seen member and we have a visit from Asil from the Alpha and Omega series which was fun as he is a character I enjoy.
I have a bit of a dilemma for the next two books.  They are not available in audio format from my library.  I wouldn't mind continuing with the series reread but I'm not sure I want to read them or not.  I'm rather enjoying listening to them this time.  The next book is one I liked but the one after that is not one I enjoyed.  I might skip that one and simply reread the next book.  The latest release in the series is available from my library so I will be able to finish the reread in audio format.
My Rating: 4 Stars