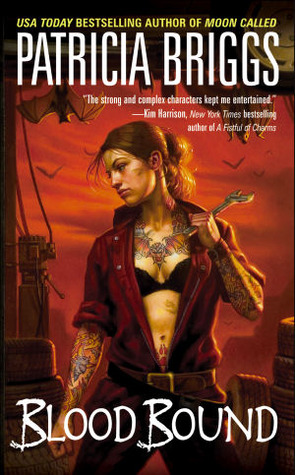 Book Genre: Paranormal, Mystery, Urban Fantasy
Book Series: Mercy Thompson #2
Released: 1/30/07
Pages: 292  Price:$19.99 Audiobook
Links:  Goodreads, Author's Site
Source: I borrowed a copy of this audiobook from my library.
Book Synopsis:
Mechanic Mercy Thompson has friends in low places-and in dark ones. And now she owes one of them a favor. Since she can shapeshift at will, she agrees to act as some extra muscle when her vampire friend Stefan goes to deliver a message to another of his kind.

But this new vampire is hardly ordinary-and neither is the demon inside of him.
My Review:
Continuing on with book two of the Mercy Thompson series and still surprised at how much I don't remember.  I have the major plot lines down but some of the subplots felt completely fresh to me.   I'm afraid I will only be able to do one more book in this series before being forced to take a break as I wait for the next book… Might have to resort to borrowing something new-to-me as I continue to wait for book seven in the Charley Davidson series.
I reread the short review I wrote up when I first read this book and I mentioned how I didn't care for the vampires in the world being monsters instead of more benevolent.  This continues to be my main issue with the series and book two.  I guess I simply don't like my vampires being the bad guy.
In this book, Mercy still has three guys vying for her affections.  While I know who she ends up with, actually knew who she would end up with when I read it as it is pretty obvious, I can't help but feel bad for the two that don't win her hand.  I like who she ends up with but I also like the other two too.
I forget what happens in the next book but I don't have to wait long to find out.  All I need to do is end this review and hit play.  So that's what I'm going to do.
My Rating: 4 Stars