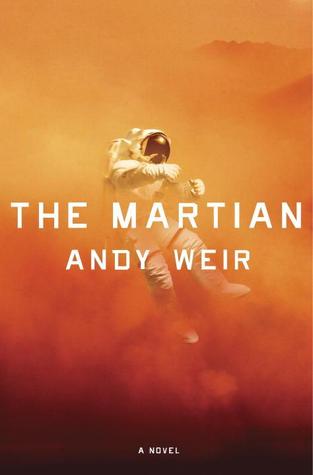 Cover art thanks to Goodreads, click on it to visit book's page there.
I received a copy of this book from the publisher through the Blogging for Books for an honest review.
They also asked that I share these links:
The Martian Press Release, A Conversation with Andy Weir, Author Bio
Book Synopsis:
Six days ago, astronaut Mark Watney became one of the first men to walk on the surface of Mars. Now, he's sure he'll be the first man to die there.

It started with the dust storm that holed his suit and nearly killed him, and that forced his crew to leave him behind, sure he was already dead. Now he's stranded millions of miles from the nearest human being, with no way to even signal Earth that he's alive–and even if he could get word out, his food would be gone years before a rescue mission could arrive. Chances are, though, he won't have time to starve to death. The damaged machinery, unforgiving environment, or plain-old "human error" are much more likely to get him first.

But Mark isn't ready to give up yet. Drawing on his ingenuity, his engineering skills–and a relentless, dogged refusal to quit–he steadfastly confronts one seemingly insurmountable obstacle after the next. But will his resourcefulness be enough to overcome the impossible odds against him?
My Review:
I'm so excited about this book I'm not sure where to start with the review.  (Be prepared for a love fest…)  I LOVED this book!  If I could give it more than five stars I would.  I took a look at some of the other reviews, well mainly the negative ones cause I could not believe people didn't like this book, and I can see some of the points they were making.  But you know what?  I don't care.  This book worked for me and I think it will work for many readers out there.
So I should tell you how much of an annoying person I was while reading this book.  After getting 30 pages into it I handed it to my husband and told him to read the first chapter.  I then went to Facebook and even a post here to sing my praises of this book.  I then jumped on Goodreads to find out more about the author and what other books he has written ( none).  He did write a short story called  The Egg, which is also brilliant and available for free (go read it, I'll wait). After all that research I settled in to enjoy my story, only to be compelled to follow my husband around the house reading him excerpts.  Well, until he told me to stop…  I have been such a pain to live with because I am so excited about this story.  I wanted to go out and buy a case of them and hand the book out to strangers and say "Here read this book."  I still say someday Hollywood is going to take this story and utterly destroy it with a sad attempt at capturing its brilliance in film.  They will fail.
Alright you get it, I liked the book.  No, LOVED it.  So why?  The main reason, and the reason most often cited against the book, was the humor.  Who would have though a story about a man being stranded on Mars facing death at every turn would be so funny.  And it was.  If you are not a fan of sarcasm, witty on-liners and gallows humor then the book isn't for you, but personally it is what made the story for me.  I loved that even in this serious life and death situation the main character was able to look death in the eye and crack a joke.
I also loved all the science, not that I got it all, but the author did a great job of making it understandable for people like me who can't do basic math without a calculator and never did well in science class.  Everything seemed plausible to me and I was delighted the few times I would see a solution right before the main character did.  This is the ultimate survival story.  If you think surviving on a deserted island is hard, try Mars.  The technology didn't seem too far into the future either.  It helped make the story feel like this is something that could take place in our near future.  Which I believe made it more relatable or understandable for readers.
The character is another aspect that made the story for me.  We aren't just following Mark around from one near death experience to another for 369 pages. There is also the crew that was forced to abandon him and the teams at NASA down on Earth.  This helped to round out the story and broke up the journal entries which account for much of our time with Mark.  The author did an excellent job of creating people I cared about.  You root for these characters,  you want them to succeed.  They are likable and Mark wasn't the only one with a sense of humor.  Some complained that they were one-dimensional, but I disagree.  They are trying to overcome a terrible accident and many of them are confined to a planet or a spaceship,  a lot of their back stories are not needed to make this one work.
The story is fairly formulaic; there is a problem, think up solution, implement solution all the while making jokes.  Didn't bother me, but did notice it about mid-book.  Would have been nice if Mark had a break from time to time, but that probably would have made a more boring book.  This book is a survival thriller that grabbed me from chapter one and didn't let up until the very end.  I'm serious,  it wasn't until the last page that we know how everything ends up.  I laughed a lot in this book, cried some even and that last few pages I held my breath as I read.  This is an amazing story, go get a copy and READ IT!  I don't think you will be disappointed.