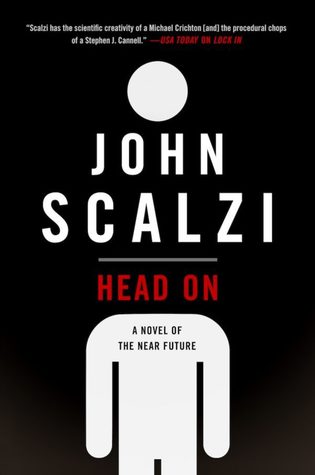 Book Genre: Science Fiction, Mystery
Book Series: Lock in #2
Released: 4/17/18 by Tor Books
Pages: 336  Price: $25.99 Hardcover
Links:  Goodreads, Author's Site
Source: I received a copy of this book from the publisher in exchange for an honest review.
Book Synopsis:
John Scalzi returns with Head On, the standalone follow-up to the New York Times bestselling and critically acclaimed Lock In. Chilling near-future SF with the thrills of a gritty cop procedural, Head On brings Scalzi's trademark snappy dialogue and technological speculation to the future world of sports.

Hilketa is a frenetic and violent pastime where players attack each other with swords and hammers. The main goal of the game: obtain your opponent's head and carry it through the goalposts. With flesh and bone bodies, a sport like this would be impossible. But all the players are "threeps," robot-like bodies controlled by people with Haden's Syndrome, so anything goes. No one gets hurt, but the brutality is real and the crowds love it.

Until a star athlete drops dead on the playing field.

Is it an accident or murder? FBI Agents and Haden-related crime investigators, Chris Shane and Leslie Vann, are called in to uncover the truth―and in doing so travel to the darker side of the fast-growing sport of Hilketa, where fortunes are made or lost, and where players and owners do whatever it takes to win, on and off the field.
My Review:
Took me a bit longer to get into this one than the first book in this series.  The part focusing on the game Hilketa just bogged me down and made me struggle to focus on the book.  I'm not a sports fan, any sports apparently, as this is a made-up game in a made-up universe.   The parts focusing on the politics and business, or rather the corruption, of the sport, were a bit more interesting for me.
My favorite parts, however, were the scenes with Shane and Vann as the banter between these two is pure gold.  I also enjoyed Shane's time with his flatmates and the parts about the cat never failed to crack me up.  It has been a while since I read the first but it felt like we spent more time with Shane's parents and it was nice to explore the dynamics of their family.
Another part I found fascinating was the exploration of the virtual world, I forget its name, that the hadens create for themselves and use to interact with each other.  Parts of that reminded me of Ready Player One.
Like I said I struggled a bit more with this book but after reading the acknowledgments it appears like Scalzi did too.  I've long believed that often comes out in the writing.  The last third of the book worked the best for me and I often found myself laughing out loud as I read well past my bedtime to finish the book.  I so hope that Scalzi writes another book in the series as it is such an interesting world to explore.
My Rating: 4 Stars