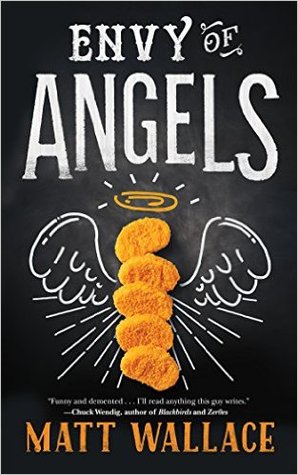 Book Genre: Urban Fantasy, Paranormal, Novella
Book Series: Sin du Jour #1
Released: 10/20/2015 by Tor
Pages: 225 Price: $12.99 Paperback
Links:  Goodreads, Author's Site
Source: I borrowed this audiobook from my library.
Book Synopsis:
In New York, eating out can be hell.

Everyone loves a well-catered event, and the supernatural community is no different, but where do demons go to satisfy their culinary cravings?

Welcome to Sin du Jour – where devils on horseback are the clients, not the dish.
My Review:
This series is simply not for me.  Not a fan of the humor used in this book or the gore factor.  It wasn't a long audiobook so I decided to tough it out but had I been reading I would have put this one down.
There wasn't a lot that I liked but there isn't anything I really hated either.  Lots that I found gross, however.  Tons of characters which was alright in audio format because the narrator did a great job with differentiating the voices.  Not a long book which I was thankful for but plenty there to introduce you to the series.  If you are going to give this one I try I do suggest the audiobook.  The actor reading the story did a great job.
My Rating: 2 Stars