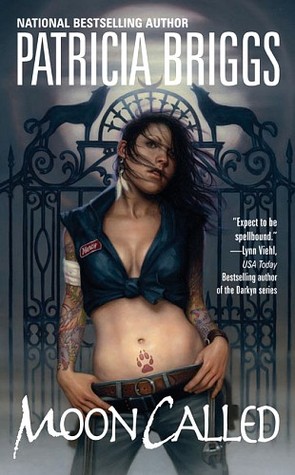 Book Genre: Urban Fantasy, Paranormal, Mystery, Audiobook
Book Series: Mercy Thompson #1
Released: 1/31/2006 by Ace
Pages: 288 Price: $19.99 Audiobook
Links:  Goodreads, Author's Site
Source: I borrowed an audiobook copy of this book from my library
Book Synopsis:
Mercedes Thompson, aka Mercy, is a talented Volkswagen mechanic living in the Tri-Cities area of Washington. She also happens to be a walker, a magical being with the power to shift into a coyote at will. Mercy's next-door neighbor is a werewolf. Her former boss is a gremlin. And she's fixing a bus for a vampire. This is the world of Mercy Thompson, one that looks a lot like ours but is populated by those things that go bump in the night. And Mercy's connection to those things is about to get her into some serious hot water…
My Review:
The great reread of 2018 continues with another paranormal series I enjoy.  This book is narrated by Lorelei King the same person who narrates the Charley Davidson series and does a great job of bringing these stories to life.
I hit a wall with the Charley Davidson series am on a pretty long wait list for book seven.  Not wanting to give up working on my blanket while I wait I decided to see what other audiobooks series I might enjoy.  I was delighted to see this one is read by the same person and decided to reread the Mercy Thompson series too.  Hopefully, between the two I have enough books to finish my blanket.
Again I was surprised by how much I didn't remember about how this series started.  Of course, some was familiar but there were parts that were totally new to me.  As with other reread titles I decided to listen to I have also learned just how off I am on names of different characters.
This was a fun title to revisit in audio format and I only have one tiny complaint.  I'm not a fan of the accent that is used for the main vampire character.  It feels a bit too cliché.
My first time reading this book I left kind of lame review so I will try to write some better reviews for the next few books I listen to.
My Rating: 4 Stars