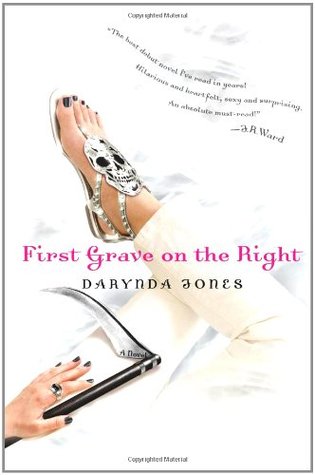 Book Genre: Paranormal, Romance, Urban Fantasy, Audiobook
Book Series: Charley Davidson #1
Released: 2/1/2011 by St. Martin's Press
Pages: 310  Price: $44.99 Audiobook
Links:  Goodreads, Author's Site
Source: I borrowed this audiobook from my library
Book Synopsis:
This whole grim reaper thing should have come with a manual.
Or a diagram of some kind.
A flow chart would have been nice.

Charley Davidson is a part-time private investigator and full-time grim reaper. Meaning, she sees dead people. Really. And it's her job to convince them to "go into the light." But when these very dead people have died under less than ideal circumstances (like murder), sometimes they want Charley to bring the bad guys to justice. Complicating matters are the intensely hot dreams she's been having about an entity who has been following her all her life…and it turns out he might not be dead after all. In fact, he might be something else entirely. But what does he want with Charley? And why can't she seem to resist him? And what does she have to lose by giving in?

With scorching-hot tension and high-octane humor, First Grave on the Right is your signpost to paranormal suspense of the highest order.
My Review:
I discovered this series shortly after starting Read What I Like blog and if you would like to read the original review of this book then you can do so here. I continue to stand by that review and will focus most of this abbreviated re-read review on the format (audiobook).  I have decided to listen to the entire series in audio format in anticipation of the last book, #13, in 2018.  I will try to think of a different aspect for future re-read reviews for this series. A couple of ideas I have are what I missed the first time or clues to future events.  We'll see what I decide when the time comes to write those reviews. But like I said this first review will focus on reading vs listening to this story.
I had been planning on rereading this series for some time and planned to do so in print.  What changed is that I was going to Chicago for a three-day getaway and my husband came down with the flu and couldn't go.  I needed something to listen to while bumming around town, shopping and riding the El.  I needed a book that I knew I liked because I did not want to be searching for a replacement title while I was away.  I came across this title and thought it was a perfect fit.  I crossed my fingers and hoped for a good narrator.
I absolutely loved this book in audio format.  Loved it.  It loses nothing and is just as enjoyable as reading it in print.  The narrator is a good choice for the voice of Charley and she does a great job of differentiating her tone and accent for the supporting cast.  Cookie does sound way different from I imagined but I she still works for me.  The humor is still just as funny and I had to remind myself while listening that I must not laugh out loud in public.  The steamy parts were a little awkward to listen to while carrying on in public.  Walking around wicker park listening to some pretty hot action going on in my ears made me grateful for my wireless ear buds.   The serious parts also still grabbed me and I found myself with tears streaming down my face in a section near the end.  Fortunately, that didn't occur until the car ride home from the train station.
This is such a fun book no matter the format.  If you are looking for something that will run the gambit of emotions from hilarity to somber then I highly recommend it to you.  I look forward to rereading this series.
My Rating: 5 Stars (no change)