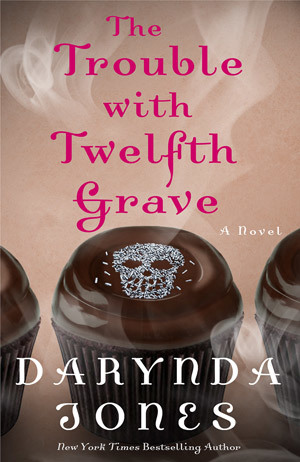 Book Genre: Urban Fantasy, Paranormal, Romance
Book Series: Charley Davidson #12
Released: 10/31/17 by St. Martian's Press
Pages: 352  Price: $26.99 Hardcover
Links:  Goodreads, Author's Site
Buy the Book: Amazon  The Trouble with Twelfth Grave: A Novel (Charley Davidson Series)
Source: I received a copy of this book from the publisher through Net Galley for an honest review.
Book Synopsis:
Ever since Reyes escaped from a hell dimension in which Charley accidently trapped him, the son of Satan has been brimstone-bent on destroying the world his heavenly Brother created. His volatile tendencies have put Charley in a bit of a pickle. But that's not the only briny vegetable on her plate. While trying to domesticate the feral being that used to be her husband, she also has to deal with her everyday life of annoying all manner of beings—some corporeal, some not so much—as she struggles to right the wrongs of society. Only this time she's not uncovering a murder. This time she's covering one up. 

Add to that her new occupation of keeping a startup PI venture—the indomitable mystery-solving team of Amber Kowalski and Quentin Rutherford—out of trouble and dealing with the Vatican's inquiries into her beloved daughter, and Charley is on the brink of throwing in the towel and becoming a professional shopper. Or possibly a live mannequin. But when someone starts attacking humans who are sensitive to the supernatural world, Charley knows it's time to let loose her razor sharp claws. Then again, her number one suspect is the dark entity she's loved for centuries. So the question becomes, can she tame the unruly beast before it destroys everything she's worked so hard to protect?
My Review:
This book took me so long to get through.  Not because I struggled with the story but life got in the way, majorly.  I wish I had held off starting this book until I had the time to commit to reading it straight through.  I know I missed bits and pieces because some days I only had time to read a page or two.  The last hundred pages I was able to sit down and focus and was blown away by how much this book made me laugh, I don't want this series to end.  Book number 13 will be the last and I get it, better to end on top than let the series stretch on and compromise its integrity.  My only hope is that Ms Jones brings us a new series to fall in love with because I would miss fresh titles to look forward to from her.  Her humor is something I need in my life.
The 12 instalment of this series felt much like the books near the beginning of the series.  Reyes was absent from much of the book thanks to plotting but when he was there he had that dangerous bad-boy feel to him again.  I did miss him for much of the book but felt that those moments he did show up were all the more delicious.  While this book had the feeling of earlier books it is an interesting twist to have Charley fully aware of who she is and the role she plays in the universe.  Her grasp on her powers is almost complete yet she continues to be the Charley Davidson that we all fell for.
Being the book before the last book there was movement on loose plot threads that are beginning to be wrapped up.  Some surprises that I did not see coming and a character that has been around but up until now had no page time is summoned and I found the way Ms Jones handled that fascinating.  No spoilers so I won't say more.  Of course, the book ended with a major cliffhanger that I am super curious to see how this new issue is going to be resolved and only one book left in which to tie it up in!
If you are a fan of this series I would not miss this book or the next.  There isn't much further to go before getting some resolution in this world.  Personally, I plan to reread the series before the last book which comes out in October of next year.  I simply adore this couple and will be sad to let them go but you have to give it to the author it has been one helluva ride!
My Rating: 4 Stars