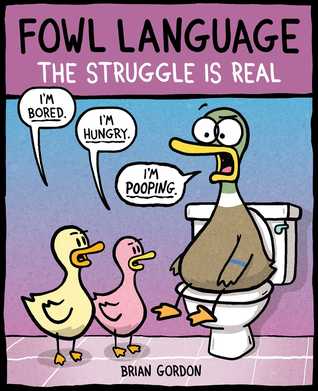 Book Genre: Humor, Graphic Novel, Comic
Book Series: N/A
Released: 10/10/17 by Andrew McMeel Publishing
Pages:  128 Price: $14.99 Paperback
Links:  Goodreads, Author's Site
Source: I received a copy of this e-book from the publisher for an honest review.
Book Synopsis:
Are you a mom or dad? How wonderful and annoying for you!
Do you know someone who will soon have a baby? How exciting and terrifying for them!
Are your friends parents, too? Of course they are, those poor sons of bitches . . .

If you answered yes to any of these questions, then Fowler Language is for you.
And if you answered no, then congratulations, and feel free to sleep in this weekend!

Thirty percent of the content in Fowler Language is original to the book, and the Fowl Language bonus panels will be included.
My Review:
Let me start with I am not the targeted audience for this book.  I am not a parent and relish my child-free lifestyle.  When I saw this book's cover and that it was a read now title over at Net Galley I decided to review it because who hasn't enjoyed these illustrations when they pop up in their newsfeed on Facebook.
I have never laughed so hard while reading a book about the ups and downs of parenthood. I laughed so hard I worried about my blood pressure!  This book was so funny and I even found parts that, as a pet parent, I could relate to.  Other bits I got simply from having once been a child myself.  So no matter who you are, parent, aunt, uncle, child-free I believe you will enjoy this book.  If you know someone who is a new or experienced parent than this would make a great gift!
My Rating:5 Stars