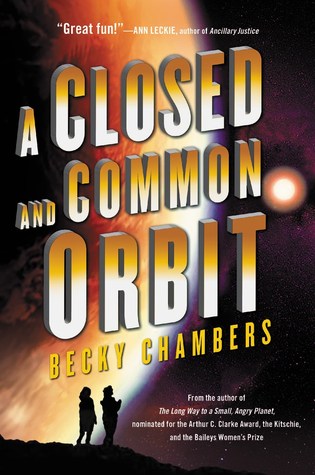 Book Genre: Science Fiction 
Book Series: Wayfarers #2
Released: 3/14/17 by Harper Voyager
Pages: 364 Price: $16.99
Links:  Goodreads, Author's Site
Buy the Book: A Closed and Common Orbit (Wayfarers)
Source: I borrowed a copy of this book from my library
Book Synopsis:
Embark on an exciting, adventurous, and dangerous journey through the galaxy with the motley crew of the spaceship Wayfarer in this fun and heart-warming space opera—the sequel to the acclaimed The Long Way to a Small, Angry Planet.
Lovelace was once merely a ship's artificial intelligence. When she wakes up in a new body, following a total system shut-down and reboot, she has no memory of what came before. As Lovelace learns to negotiate the universe and discover who she is, she makes friends with Pepper, an excitable engineer, who's determined to help her learn and grow.
Together, Pepper and Lovey will discover that no matter how vast space is, two people can fill it together.
My Review:
This book was way different from the first in its series.  If you happen to pick this book up not knowing it was second in a series you will be fine reading this as a stand-alone or even out of order.  Not much is going to be spoiled from the first book, only one plot point.  I highly recommend going back and reading the first book as it is also an excellent story.
I almost enjoyed this story as much as the first, just a tad less and am unsure if it is even enough to deduct a star or not.  Maybe I'll know by the end of the review.  Like I said this story was structured differently from the first.  The story revolves around two points of view instead of multiple and shifted back and forth in time.  We follow Lovey as she adjusts to a life that didn't go as planned and her struggle to find purpose.  We also learn how Pepper's back story and some startling revelations as to what has become of humanity among the stars.  Have to say it was a bit disappointing…  Not going to go into more to avoid spoilers.  Pepper struggled with much of the same issues as Lovey only from an organic existence instead of an artificial one.
The book also delves into the question of what makes us human and what defines self-awareness and artificial intelligence which probably isn't too far off from being an issue in our world.   Soon we will be needing to answer questions as to what rights AI will have and if a machine can be alive and have a sense of self.  Interesting ideas to ponder.
While the first two books in this series had a different feeling to them they both share a lot of heart.  I felt for these characters like I did the first crew.   Both stories tackle interesting issues and gave my brain something to chew over for a while.  I see that there will be a third book in this series and I look forward to reading it as well because this is a talented author that delivers a thought-provoking and entertaining story.
My Rating: 5 Stars