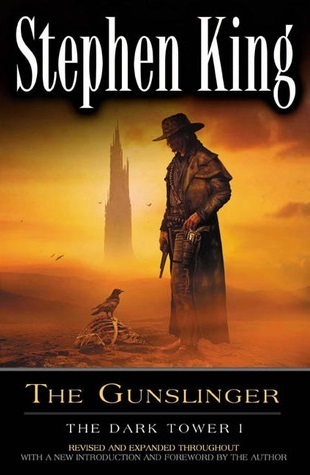 Book Genre: Fantasy, Western, Post Apocalyptic, Adventure
Book Series: The Dark Tower #1
Released: 6/10/1982 by NAL
Pages: 231 Price: $20.00 paperback
Links:  Goodreads, Author's Site
Buy the Book: The Dark Tower I: The Gunslinger
Source: I borrowed this book from my library
Book Synopsis:
In The Gunslinger (originally published in 1982), King introduces his most enigmatic hero, Roland Deschain of Gilead, the Last Gunslinger. He is a haunting, solitary figure at first, on a mysterious quest through a desolate world that eerily mirrors our own. Pursuing the man in black, an evil being who can bring the dead back to life, Roland is a good man who seems to leave nothing but death in his wake.

This new edition of The Gunslinger has been revised and expanded throughout by King, with new story material, in addition to a new introduction and foreword. It also includes four full-color illustrations in the hardcover and trade paperback formats.
My Review:
This my second reading of this book. The first time took place in January of 1991 when I was in high school.  How do I know this? Because I wrote the dates I finished each section in the table of contents of my book which is currently being read by my husband.  All through middle and high school I read everything I could get my hands on written by Stephen King.  Partially because it was a way to rebel, another because these were books my deceased mother had read, and because I enjoyed how pieces or clues to this epic series would be found hidden within other stories he wrote.  I have long since broken up with the author but still, I hang onto the main books in this series in case I ever wanted to revisit them.
My husband and I recently went to see the movie loosely based on the books and my husband enjoyed it so much he decided to read the first book.  Not wanting to pass up an opportunity to read the same book he was I decided to check this one out from the library and read it too.  I was also curious to see if I would feel the same about this epic fantasy that I once did.  I was obsessed with this series, after all, it was time to see if I still was.
I wasn't.  I can see why my younger self was so enamored by the story but my 26 years older self found a lot lacking.  Younger Amy fell hard for the epic good vs evil the magic and the mysticism.  She wanted a story to get lost within something to sink her teeth into.  Older Amy knows how this story plays out and isn't interested in taking this journey twice.  Ironic when you think about how the last book ended.  My older reading self comes to this story with more experience and was able to see the flaws of this story.  It wasn't awful but I've read better where my 17-year-old self most likely hadn't.
Basically, I've moved on much like the world Roland inhabits.  There were a time and place for this series in my life and it was 26 years ago.  This is one I am fully able and willing to let go because after reading this book for the second time I will not be rereading the rest. The book was a bit slow-paced for me and near the end, I kept thinking I should just put it down. But I finished it and now the husband and I can discuss it over lunch sometime.  I didn't care for the characters much, Roland was alright and Jake was just annoying.  The man in black was probably the most interesting which surprised me.  If they ever make a second movie I'll probably go see it but quite frankly I don't think that is going to happen.
My Rating: 3 Stars