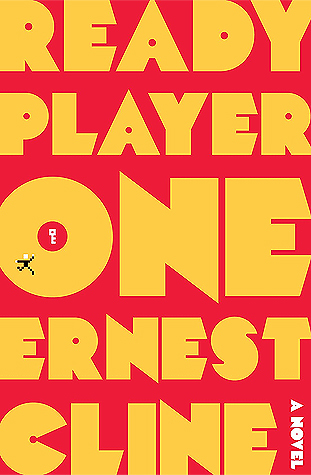 Book Genre: Science Fiction, Dystopian, Audiobook
Book Series: N/A
Released: 8/16/11 by Crown Publishers
Pages: 374 Price: $26.00 Hardcover
Links:  Goodreads, Author's Site
Buy the Book: Amazon Ready Player One: A Novel
Source: I borrowed a copy of this audiobook from my library
Book Synopsis:
In the year 2044, reality is an ugly place. The only time teenage Wade Watts really feels alive is when he's jacked into the virtual utopia known as the  OASIS. Wade's devoted his life to studying the puzzles hidden within this world's digital confines, puzzles that are based on their creator's obsession with the pop culture of decades past and that promise massive power and fortune to whoever can unlock them. When Wade stumbles upon the first clue, he finds himself beset by players willing to kill to take this ultimate prize. The race is on, and if Wade's going to survive, he'll have to win—and confront the real world he's always been so desperate to escape.
My Review:
Wow, I really enjoyed this book!  Totally surprised me because I ended up DNFing this author's second book Armada.  That one I found just annoying and a bit boring with all the insider info geared towards gamers.  This book, on the other hand, was a delight and a fun nostalgic trip to all things pop culture from the 80's, the decade I spent most of my pre-teen and teens in.
I totally agree with another reviewer in that Wil Wheaton made this book for me!  Listening to him narrate this story was such a trip, especially when the story referenced him and anything Trek.  Being that this story is about a group of players searching for the ultimate Easter Egg inside a game to have so much of the story is essentially one giant Easter Egg was amazing. At almost every turn there was some pop reference that made me smile.
But that isn't all that Ready Player One is about, oh no, there is much more to be had in this tale.  There is also a great social commentary on where our society might be headed if we don't change our ways.  We get a glimpse at what might await us if we don't start taking climate change seriously or stop rampant corporate greed.  I also enjoyed the ideas about where technology might be headed that the author proposed.
The last leg of this story focused on a small band of misfits struggling to fit in, in this world.  Outcasts that live their lives mainly online and struggle with social interactions.  Not to mention a budding romance that was beyond sweet.  The characters, like in any epic tale, are true heroes out to fight for the greater good.
I thoroughly enjoyed listening to this book.  I'm not sure I would have felt the same way if I had read it myself though.  Wil Wheaton's inflection and talent as an actor added that something extra that bumped this story up an entire star for me.  So if you have the option I would definitely listen to this one.
My Rating: 5 Stars