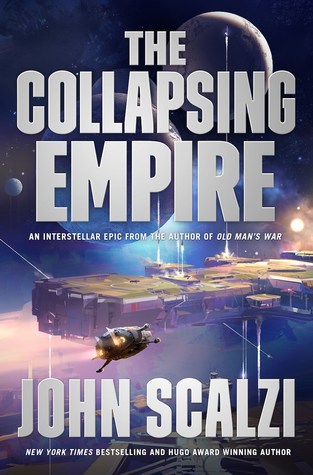 Book Genre: Science Fiction, Space Opera, Political
Book Series: The interdependency #1
Released: 3/21/17
Pages:336  Price: $25.99 hardcover
Links:  Goodreads, Author's Site
Buy the Book: Amazon  The Collapsing Empire
Source: I borrowed this book from my library
Book Synopsis:
The first novel of a new space-opera sequence set in an all-new universe by the Hugo Award-winning, New York Times-bestselling author of Redshirts and Old Man's War.

Our universe is ruled by physics and faster than light travel is not possible — until the discovery of The Flow, an extra-dimensional field we can access at certain points in space-time that transport us to other worlds, around other stars.

Humanity flows away from Earth, into space, and in time forgets our home world and creates a new empire, the Interdependency, whose ethos requires that no one human outpost can survive without the others. It's a hedge against interstellar war — and a system of control for the rulers of the empire.

The Flow is eternal — but it is not static. Just as a river changes course, The Flow changes as well, cutting off worlds from the rest of humanity. When it's discovered that The Flow is moving, possibly cutting off all human worlds from faster than light travel forever, three individuals — a scientist, a starship captain and the Empress of the Interdependency — are in a race against time to discover what, if anything, can be salvaged from an interstellar empire on the brink of collapse.
My Review:
I can't believe I'm actually doing this but I'm DNF a Scalzi book.  I am on page 178, for future reference if I decide to try again, and am just struggling to get into this story.  I made it halfway through the book and just don't care.  I don't want to read another page and it is dragging down my reading groove so this is where I part ways with this book.  Not the author because I still think he is brilliant but this book is simply not what I'm looking for.  I know that many of you love it so please don't send hate mail/comment, let's keep the pitchforks to ourselves, shall we.
The book started off slow with not enough background information to help you figure out what was going on.  Like another reviewer stated it was if you were picking up a story already in progress and nobody was going to catch you up.  Also, way too political for me right now.  A government controlled by corporations IS our reality!  I read to escape and this was no escape.  Of what I read it was about the haves lording over the have-nots and I just don't want to read that right now.
I'm sure Scalzi is making some great parallels to our society which is what great fiction does but I don't have the patience to wait for the come-up-ins.  I also struggled to identify with any of the characters or even find one to root for.  They felt flat or wishy-washy.  I wanted someone to grab me and give me a reason to keep reading.  None of the characters managed that.  Quite frankly I don't care what happens to any of them.  I would be curious to learn how humans ended up in this multi-planet system but it was never explained thoroughly and it didn't feel like Scalzi was going to bring us back to why we left Earth in the first place.
Kind of disappointed but oh well.  I wish I had figured out sooner that it wasn't a good fit and given up a week ago.  I'm not giving up on Scalzi, however.  There are still books of his I want to read but this series… I think I'll pass.  Thanks.
My Rating:DNF