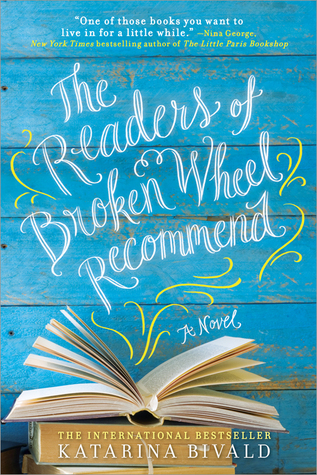 Book Genre: Contemporary Fiction, Romance
Book Series: N/A
Released: 1/19/16 by Sourcebooks Landmark
Pages:394  Price:$16.99 by Paperback
Links:  Goodreads, Author's Site
Buy the Book: Amazon The Readers of Broken Wheel Recommend
Source: I received a copy from the publisher for an honest review.
Book Synopsis:
Once you let a book into your life, the most unexpected things can happen…

Broken Wheel, Iowa, has never seen anyone like Sara, who traveled all the way from Sweden just to meet her pen pal, Amy. When she arrives, however, she finds that Amy's funeral has just ended. Luckily, the townspeople are happy to look after their bewildered tourist—even if they don't understand her peculiar need for books. Marooned in a farm town that's almost beyond repair, Sara starts a bookstore in honor of her friend's memory.

All she wants is to share the books she loves with the citizens of Broken Wheel and to convince them that reading is one of the great joys of life. But she makes some unconventional choices that could force a lot of secrets into the open and change things for everyone in town. Reminiscent of The Guernsey Literary and Potato Peel Pie Society, this is a warm, witty book about friendship, stories, and love.
My Review:
This was such a charming little read.  I wish life had not gotten in the way and I could have read it without interruption.  I picked this book up at BEA last May although it was already on my radar.  We had it at the library where I work and I was already planning on reading it.  When I had the opportunity to meet the author and get a personalized copy I simply could not pass it up.  I'm so glad I did because this book has earned a permanent spot on my shelves.
This book is set in Iowa, and if a blog post I read about it is correct the town that the town it is based upon is two towns over from where I live!  I have to say for someone who had never been to Iowa before writing this book she captured small town Iowa pretty damn accurately.  I could totally picture this story playing out upon the streets of that small town.  Ms. Bivald also did an excellent job of recreating characters you might find in a small Iowa town.  Oh sure, there were some missing, but overall well done.
Much of this story is a fun fluffy tale about a woman from afar coming to a strange town and falling in love.  Another side, however, is a peek into the reality of a small dying Iowa town.  I am sorry to say that she also portrayed this side of Iowa pretty accurately as well.  The author also delved into topics like homosexuality and racism which should challenge some readers like it challenged the citizens of Broken Wheel, and I for one think that's a good thing.
Then there are the books.  It was such a delight to see the literary world become almost a supporting character in this story.  And to be portrayed so accurately.  After all is not the truest purpose of a book none other than to bring people together like it did for the people of Broken Wheel?
Great read that I look forward to recommending to many of my patrons.
My Rating:5 Stars