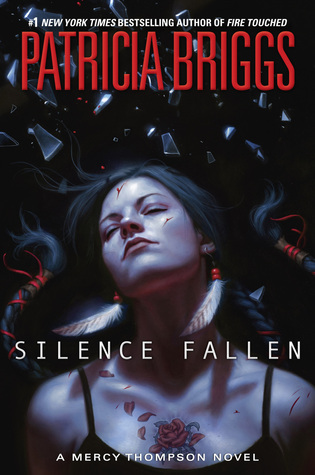 Book Genre: Paranormal, Urban Fantasy
Book Series: Mercy Thompson #10
Released: 3/7/17 by Ace Books
Pages: 352 Price: $27.00 Hardcover
Links:  Goodreads, Author's Site
Buy the Book: Amazon Silence Fallen (A Mercy Thompson Novel)
Source: I received a copy of this book from the publisher through Net Galley for an honest review.
Book Synopsis:
Attacked and abducted in her home territory, Mercy finds herself in the clutches of the most powerful vampire in the world, taken as a weapon to use against alpha werewolf Adam and the ruler of the Tri-Cities vampires. In coyote form, Mercy escapes only to find herself without money, without clothing, and alone in the heart of Europe…

Unable to contact Adam and the rest of the pack, Mercy has allies to find and enemies to fight, and she needs to figure out which is which. Ancient powers stir, and Mercy must be her agile best to avoid causing a war between vampires and werewolves, and between werewolves and werewolves. And in the heart of the ancient city of Prague, old ghosts rise…
My Review:
I must confess I did not care much for the last book in this series, nor did I the last release in the spin-off series Alpha and Omega…  So while I knew I wanted to read the next book, after all, many of the books in these two series I have adored, I was a little hesitant when I dove into this one worried that I would not enjoy it as I had earlier books.
That is why I am thrilled to report back that this current release delivered big time for me!  I LOVED this book!  It might be the pain meds talking or the fact that I am trapped at home recovering from major surgery but this book was exactly what I needed right now.  An action-packed roller-coaster ride full of danger, drama, and justice.  There was little missing from this book and I had such fun as I watched my favorite little coyote work her magic on a whole new continent.
This book is set up a little different from previous books but the author gives us plenty of warning and help to figure things out as the story jumps not only back and forth between Mercy and Adam but in the timeline as well.  Personally, I don't think it would have been that hard to follow without the notations at the beginning of each chapter but it was nice to have the reminder of what sequence the following action fell in.
After all the drama with the Fae it is the Vampire's turn to create havoc for the supernatural creatures of the world and of course, Mercy and Adam's pack seems to have a big old bullseye painted on their back.  Perhaps they were cursed at some point in time to receive all the attention from other species looking to control the world.  I loved this peek into the complex vampire social structure with all the polite power plays.  I also enjoyed seeing Mercy mess up all their well-laid plans.
This was a phenomenal addition to this series and it left me wanting more.  I can't wait to see what happens next!
My Rating:5 Stars