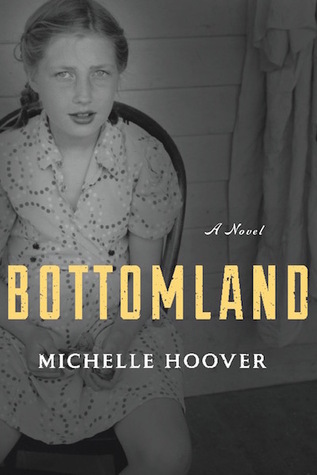 Book Genre: Historical Fiction, Mystery
Book Series: N/A
Released: 3/1/16 by Grove Press
Pages: 336  Price:$16.oo paperback
Links:  Goodreads, Author's Site
Buy the Book: Amazon Bottomland: A Novel
Source: I borrowed this book from my library.
Book Synopsis:
At once intimate and sweeping, Bottomland—the anticipated second novel from Michelle Hoover—follows the Hess family in the years after World War I as they attempt to rid themselves of the Anti-German sentiment that left a stain on their name. But when the youngest two daughters vanish in the middle of the night, the family must piece together what happened while struggling to maintain their life on the unforgiving Iowa plains.

In the weeks after Esther and Myrle's disappearance, their siblings desperately search for the sisters, combing the stark farmlands, their neighbors' houses, and the unfamiliar world of far-off Chicago. Have the girls run away to another farm? Have they gone to the city to seek a new life? Or were they abducted? Ostracized, misunderstood, and increasingly isolated in their tightly-knit small town in the wake of the war, the Hesses fear the worst. Told in the voices of the family patriarch and his children, this is a haunting literary mystery that spans decades before its resolution. Hoover deftly examines the intrepid ways a person can forge a life of their own despite the dangerous obstacles of prejudice and oppression.
My Review:
Alright, confession time.  I'm breaking my rules by reviewing this book.  I swore after a psycho author harassed me at work I would never review an All Iowa Reads book again.  Ever.  I would read them of course so I could participate in the book discussion held at my library but my thoughts of that year's title would not leave that room and never be posted on my blog again.
So, why am I reviewing this year's selection?  Well, mainly because I really liked it.  This is by far the best All Iowa Read's selection that I have read in my years working in a small town Iowa library.  I am totally shocked!  I have to give props to the panel this year's title was a good call.
There was so much I could relate to in this book.  Being from Iowa I knew this family, or rather one just like it.  In fact, my best friend growing up was a first generation German and I remember spending so much of my youth at their farm.  I felt like I knew these people and could identify with them even though I am only part German.  I have a feeling that most people are going to be able to either see themselves or someone they know in these characters.
Surprising that isn't what hooked me, though, it was the mystery of what happen to those girls that held my interest.  This was a well-crafted puzzle that I didn't quite figure out and was pleased to see how everything turned out.  I also thought this book was very timely for the current immigrant drama going on in our country.  So many forget that their family too came from elsewhere and that they probably weren't welcome here either.  It seems that after a few generations we forget to have any compassion to those just arriving and how much new blood contributes to our society.  The book delves into to sexism and should remind us just how far woman's rights have come and just how far they have yet to go.
This was a surprisingly good listen.  I find myself still reflecting on it and remembering my childhood.  I've lost connection to that childhood friend and her family, it often happens.  I wish them well, though, and thank them for letting me experience their culture for a time.
My Rating:4 Stars