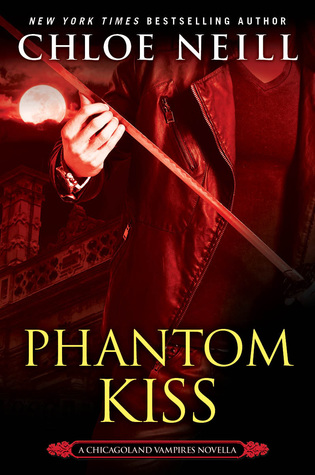 Book Genre: Urban Fantasy, Paranormal, Science Fiction
Book Series: Chicagoland Vampires #12.5
Released: 1/17/17 by Berkley
Pages: 83 Price: $1.99 Ebook
Links:  Goodreads, Author's Site
Buy the Book: Amazon Phantom Kiss (Chicagoland Vampires)
Source: I received a copy of this book from the publisher through Net Galley for an honest review.
Book Synopsis:
Vampires generally aren't afraid of things that go bump in the night, but Merit and Ethan are extra jumpy after a recent attack by a dark sorcerer. So when they learn that someone is messing with graves in Chicago's cemeteries, stealing skulls and snatching souls, they fear that their powerful foe might be back for even more magical vengeance.

But after a specter begins haunting Cadogan House—and targeting vampires—they realize that their being taunted by an altogether different sort of monster. A ghoulish villain straight out of the Windy City's urban legends is on the prowl—and he won't stop until he's killed again…
My Review:
I like many fans of Chloe Neill are both sad and excited about the upcoming release that will close this long run series.  Soon it will be time to say goodbye to Merit and Ethan and let them move on to their H.E.A. They deserve the peace and quiet but I sure will miss reading about their adventures.
I didn't realize Ms. Neill was working on a novella between the last release and the last release so this was a pleasant surprise and a fun read.  We start out with some wedding drama and I loved that first scene where Merit kicked ass, kinda…  You will see what I mean when you read it and for the awesome price of $1.99 (according to the book info page over at Net Galley) I hope you do go out and pick this one up.
I'm actually surprised that this book is coming out in January as the plot seems more fitting to Halloween.  A good old fashion ghost story seems like a better fit for that time of year.
We have the return of many of the series familiar faces as well as a fairly recent addition in the last book.  Bottom line this was a great read, a quick read and those of you who have stayed current with the series will not want to miss this novella.  It will deliver everything you love about the series.
My Rating: 4 Stars