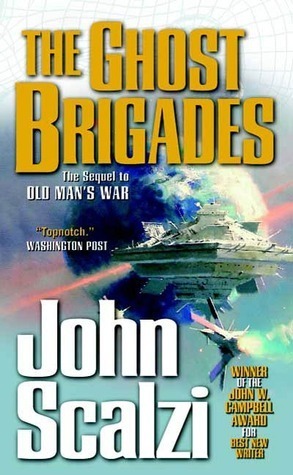 Book Genre: Science Fiction, Fantasy, Space Opera
Book Series: Old Man's War #2
Released: 5/1/2007 by Tor 
Pages: 347  Price:$7.99 Paperback
Links:  Goodreads, http://whatever.scalzi.com/Author's Site
Buy the Book: Amazon The Ghost Brigades (Old Man's War)
Source: I own a copy of this book.
Book Synopsis:
The Ghost Brigades are the Special Forces of the Colonial Defense Forces, elite troops created from the DNA of the dead and turned into the perfect soldiers for the CDF's toughest operations. They're young, they're fast and strong, and they're totally without normal human qualms.

The universe is a dangerous place for humanity—and it's about to become far more dangerous. Three races that humans have clashed with before have allied to halt our expansion into space. Their linchpin: the turncoat military scientist Charles Boutin, who knows the CDF's biggest military secrets. To prevail, the CDF must find out why Boutin did what he did.

Jared Dirac is the only human who can provide answers — a superhuman hybrid, created from Boutin's DNA, Jared's brain should be able to access Boutin's electronic memories. But when the memory transplant appears to fail, Jared is given to the Ghost Brigades.

At first, Jared is a perfect soldier, but as Boutin's memories slowly surface, Jared begins to intuit the reason's for Boutin's betrayal. As Jared desperately hunts for his "father," he must also come to grips with his own choices. Time is running out: The alliance is preparing its offensive, and some of them plan worse things than humanity's mere military defeat…
My Review:
There is quite a bit going on plot-wise in this story that I'm glad I'm reading these back to back.  I think in the end it will lead to a richer understanding of not just the story but the greater message that Scalzi is trying to convey through this world.  Because there is most definitely a message or lesson to be found in this world and I wish more people, especially in the current political environment, would read this author's work.
This story takes place a few years after the first book and is told from the perspective of one of the special forces soldiers.  We also get inside the heads of a couple other characters as well, which is a deviation from the first book which is told from John's perspective exclusively (I think).  Jane who has a brief, but important, role in the last book is more center stage in book two and by the end you can see pretty plainly how Scalzi is setting up the next story.
Lots of background and politics regarding the Ghost Brigade soldiers in this plot that brings up all kinds of interesting questions about humanity, discrimination, and the bounds of government control, all things I like to ponder being a political junky that I am, of course being a work of fiction we are also entertained.  I have to say, though,  at times Scalzi makes it awfully hard to root for humanity in this world.  He still does an excellent job of shining a big old spotlight at some of our darker aspects of humanity.  There was one scene where I just had to put the book down and collect myself for a moment.  A sure sign of a talented author if you ask me.  I get so wrapped up in the personalities and relationships that I forget the main setting of this book is a universe at war and most of the time that isn't pretty or safe.
I am looking forward to the next two books and will most likely be ordering the last two next time I go to work so I don't have to wait.  This is such a rich world, sometimes a bit slow, and definitely not fluff.  I hope you all give this one a chance it is so worth the read.
My Rating:4 Stars