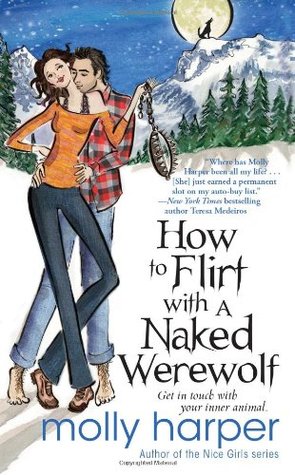 Book Genre: Paranormal, Romance
Book Series: Naked Werewolf #1
Released: 2/22/11 by Pocket Books
Pages: 371 Price: $7.99 Paperback
Links:  Goodreads, Author's Site
Buy the Book: Amazon  How to Flirt with a Naked Werewolf
Source: I own a copy of this book
Book Synopsis:
Northern Exposure

Even in Grundy, Alaska, it's unusual to find a naked guy with a bear trap clamped to his ankle on your porch. But when said guy turns into a wolf, recent southern transplant Mo Wenstein has no difficulty identifying the problem. Her surly neighbor Cooper Graham—who has been openly critical of Mo's ability to adapt to life in Alaska—has trouble of his own. Werewolf trouble.

For Cooper, an Alpha in self-imposed exile from his dysfunctional pack, it's love at first sniff when it comes to Mo. But Cooper has an even more pressing concern on his mind. Several people around Grundy have been the victims of wolf attacks, and since Cooper has no memory of what he gets up to while in werewolf form, he's worried that he might be the violent canine in question.

If a wolf cries wolf, it makes sense to listen, yet Mo is convinced that Cooper is not the culprit. Except if he's not responsible, then who is? And when a werewolf falls head over haunches in love with you, what are you supposed to do anyway? The rules of dating just got a whole lot more complicated. . . .
My Review:
This book has been sitting on my to read shelf since 2012, it was the fourth oldest book on my shelf over on Goodreads.  I have finally read it and how it moved up in my reading schedule is about how I thought it would happen.  I found book two at a library book sale and decided to go ahead and buy book one and start this trilogy.  It was just as good a read as I thought it would be and worth the wait.
I love Molly Harper, hardly ever get approved for her ARCS, but that's okay as I know I will read them eventually.  It has been a while since I read a title in the Half-Moon Hollow series but I always keep an eye out for one of her titles.  This series has nothing to do with her vamp world but it holds within its pages everything I love about a Harper book.  Humor, wacky situations, strong female lead, great friendships, and a little mystery to set all these elements to motion with.  If you want a guaranteed good read I highly suggest giving one of Ms. Harper's books a try, you won't be disappointed.
This book had a fun start with the lead character Mo moving as far away from her parents as she could and remain in the United States.  Of course this took her to Alaska where she quickly learns she isn't the kookiest character in town.  Playing on the men to woman ratio stereotype Mo soon has some of the locals vying for her attention.  Well, all except for one that is.  Of course our hero Cooper is the odd man out as he gives Mo nothing but a hard time, until they jump in the sack about half way through the book.
The story follows a fairly typical romantic comedy arc as these two work to end up together and figure out what is going on in their community.  I was surprised at how this book tended to have a bit more serious tone to it and for a bit I wondered if it was really going to work out between Mo and Cooper.
This book was great, just what I was in the mood for and I am excited to dive into book two, already having ordered the last…  I'm going to take a quick break though as I did score a review book I'm excited about too and its release date is coming up. If you are looking for something fun, a little quirky, and a sweet romance to boot then I suggest giving this book a try.
My Rating: 4 Stars