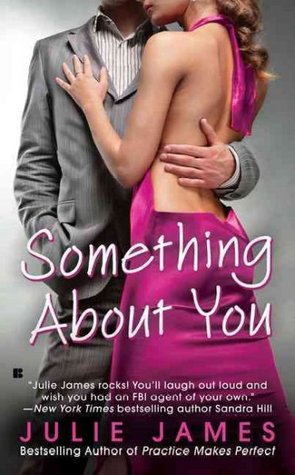 Book Genre: Romance, Suspense, Thriller, Audio
Book Series: FBI/US Attorney #1
Released: 3/10/2010 by Berkley Sensation
Pages:  307 Price: $29.99 Audio
Links:  Goodreads, Author's Site
Source: I borrowed this audio book from my library.
Book Synopsis:
Fate has thrown two sworn enemies…

Of all the hotel rooms rented by all the adulterous politicians in Chicago, female Assistant U.S. Attorney Cameron Lynde had to choose the one next to 1308, where some hot-and-heavy lovemaking ends with a death. And of all the FBI agents in Illinois, it had to be Special Agent Jack Pallas who gets assigned to this high-profile homicide. The same Jack Pallas who still blames Cameron for a botched crackdown three years ago—and for nearly ruining his career.

Into each other's arms…

Work with Cameron Lynde? Are they kidding? Maybe, Jack thinks, this is some kind of welcome-back prank after his stint away from Chicago. But it's no joke; the pair is going to have to put their rocky past behind them and focus on the case at hand. That is, if they can cut back on the razor-sharp jibes—and smother the flame of their sizzling-hot sexual tension.
My Review:
In my quest to seek out more audio books to make my chore time more productive I stumbled across this title and saw it had some good reviews and decided to give it a shot. I'm glad I did as this was a fun listen.  The story started out rather scandalously and had me blushing on the lawn mower but quickly moved into a crazy situation that had me laughing over the banter between Jack and Cameron.  I also enjoyed the setting as I have spent many a long weekend in Chicago it was easy to visualize this story which only added to my enjoyment.  I have already added the rest of the series to my to-read list as I plan to explore more work by this author.
This story was the perfect blend of tension, humor and chemistry between the two love interests.   The author did an excellent job of weaving a background between these two to keep them at odds with each other for a good portion of the book yet making us want to root for their coming together.  The addition of fun friends and nosy police force assigned to guard Cameron and give Jack a hard time helped to keep this book from being too dark.  Like I said this had good balance because there were moments that kept me on the edge of my seat as the drama and danger unfolded.  Then there was that chemistry between Jack and Cameron.  Cameron was no push-over but Jack was definitely all alpha male.  I thought I would only enjoy a good alpha in paranormal romance but this author made it work for this contemporary read too.  He was simply all kinds of yummy.
The pacing was good and the romance while hot was held off until the end of the book for the most part.  If you are looking for a romance where they don't spend all their time vertical or up against a wall this one is a good pick for you.  Personally I think it was nice to be teased for most of the book as these two drove each other crazy.
The audio was well done I enjoyed the person who narrated the piece.  She was easy to understand and I felt her voice matched the personality of the main character nicely.  Bottom line this was a fun listen and a good plot with a great ending.  I recommend it and look forward to the next book in the series.
My Rating: 4 Stars