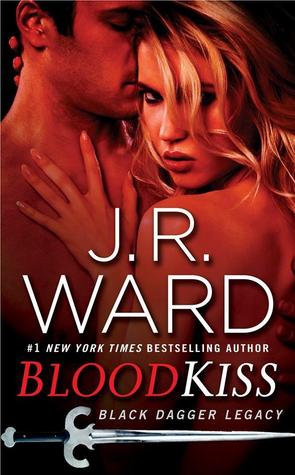 Book Genre: Romance, Paranormal, Urban Fantasy
Book Series: Black Dagger Legacy #1
Released: 12/1/2015
Pages: 397  Price: $7.99
Links:  Goodreads, Author's Site
Source: I own a copy of this book
Book Synopsis:
Paradise, blooded daughter of the king's First Advisor, is ready to break free from the restrictive life of an aristocratic female. Her strategy? Join the Black Dagger Brotherhood's training center program and learn to fight for herself, think for herself…be herself. It's a good plan, until everything goes wrong. The schooling is unfathomably difficult, the other recruits feel more like enemies than allies, and it's very clear that the Brother in charge, Butch O'Neal, a.k.a. the Dhestroyer, is having serious problems in his own life.

And that's before she falls in love with a fellow classmate. Craeg, a common civilian, is nothing her father would ever want for her, but everything she could ask for in a male. As an act of violence threatens to tear apart the entire program, and the erotic pull between them grows irresistible, Paradise is tested in ways she never anticipated—and left wondering whether she's strong enough to claim her own power…on the field, and off.
My Review:
This was a great read and a great addition to the Black Dagger Universe!  I'm not quite sure why it needs to be considered a spin-off series though as it features many of the brothers that we know and love from the original series.  Hell, most of it even takes place at the same compound.  Quite frankly beyond introducing a handful of new characters, not that Ward doesn't do that in the main series, this could have just been a book between The Shadows and The Beast.  Oh well, no matter how she wants to give us these stories I am going to shut the hell up and simply say 'Thank you, Ms. Ward'.
This book centers around the pairing up of Paradise and Craeg and is a pretty standard Romeo and Juliet type of story.  Two young lovers from opposite sides of society that fall heads over heals for each other and then have to deal with their different heritages before uniting.  As with all of Ms. Ward's books we have multiple plot threads to follow in this book but gratefully she managed to keep it to two main threads instead of the five or six she does in the main series.  Thank God.  Sometimes the other books become so confusing I feel like I need sticky notes to color code the chapters.  Anyway, this book also features Butch and Marissa who went through a similar circumstance for their story.   They were a nice choice of accompaniment for Paradise and Craeg's book.  I have actually been enjoying Ward's tendency to revisit the original couples in recent books.  We get a chance to peek behind the curtain a bit and see what happens after these couples head into their H.E.A.
Beyond the romance in this book there is also a mystery that needed to be solved and we also got to witness the Brother's own version of the Hunger games as they weeded out candidates for the new training program.  You knew nothing serious was going to happen to these students, but it was fun to see what all the brothers threw at them.  I loved how Ward handled these situations and the outcome was very satisfying to read.  These are some strong characters but Ward shows us beautifully that often strong people are that way because they have to be and still harbor vulnerabilities and insecurities that we often don't see and are quick to overlook.
A great fun read that reminds us what the original series was like in the beginning.  I look forward to the next installment and hope it is as good as the first one!
My Rating: 4 Stars