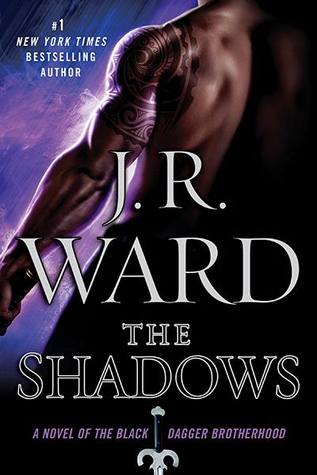 Book Genre: Urban Fantasy, Paranormal, Romance
Book Series: Black Dagger Brotherhood #13
Released: March 31, 2015
Pages: 590 Price: $27.95 Hardcover
Links:  Goodreads, Author's Site
Source: I own a copy of this book.
Book Synopsis:
Trez "Latimer" doesn't really exist. And not just because the identity was created so that a Shadow could function in the underbelly of the human world. Sold by his parents to the Queen of the S'Hsibe as a child, Trez escaped the Territory and has been a pimp and an enforcer in Caldwell, NY for years- all the while on the run from a destiny of sexual servitude. He's never had anyone he could totally rely on… except for his brother, iAm.

iAm's sole goal has always been to keep his brother from self-destructing- and he knows he's failed. It's not until the Chosen Serena enters Trez's life that the male begins to turn things around… but by then it's too late. The pledge to mate the Queen's daughter comes due and there is nowhere to run, nowhere to hide, and no negotiating.

Trapped between his heart and a fate he never volunteered for, Trez must decide whether to endanger himself and others- or forever leave behind the female he's in love with. But then an unimaginable tragedy strikes and changes everything. Staring out over an emotional abyss, Trez must find a reason to go on or risk losing himself and his soul forever. And iAm, in the name of brotherly love, is faced with making the ultimate sacrifice…
My Review:
Okay, let me start off by warning you that this review will contain spoilers.  The book has been out for a year and half though so get over it already.  Also by the looks of it this addition to the BDB has been spoiled all over the freaking place and I am quite frankly surprised I went into this book not knowing what the hell was going to happen, because oh. my. freaking. God!
Alright, let me preface this review by saying that I have been avoiding this book, not because I knew what was going to happen, but simply because I didn't care for Trez or iAm that much.  I didn't hate them, they just were not my favorite characters…. I wasn't interested in their HEA (ironic as I know that to be now) and so I put it off.  Well with my recent reading liberation and decision to catch up on the releases of my favorite authors that I had missed I decided it was time to pick up The Shadows so I could read The Beast.
Let's just get the spoiler out-of-the-way.  Serena dies.  Not like Doc. Jane or Mary died and comes back.  Serena fucking dies in this book.  Ward killed off the heroine and there is NO HEA for this story.  Well kinda, iAm does get one tacked on to the end, but we will get to that in a minute.  I spent this 600 pages, almost, on a book about characters I didn't care that much about to get invested in them to have the freaking' heroine die at the end!  I was crying the big ugly tears when I closed up this book.  Then I sat a minute, looked at all the blowout over on Goodreads and thought about it and have to give props to Ward for her decision for the direction of this story.  I must not have been easy to write this story and then to release it knowing how the fans were most likely going to react.  Talk about risky and brave (yes, I know I ripped into Charlaine Harris over the ending of her series, but this one is different).   After letting it set for a few minutes I have to say I'm okay  with how this book ended.  My heart breaks for Trez, big time, but you know we get to comfortable with romance books.  Life does not always give us happy endings, so why should they?  If there were ever two characters that she was going to kill off one of the love interests I think one of the Shadows was probably the safest pick.  If it had been one of the other brothers I might have had a stronger reaction.
Okay other than the very sad and unjust ending for the main plot in this book it was much better than I was expecting.  It was interesting to see the seeds planted for Rhage's second book and Layla's set to come out next year.  Again I wish we could just do without Assail's story line.  It just feels tacked on and always hits me out of the blue with who the hell is this again.  The Band of Bastard's plot thread is starting to get more interesting, but again another thread I am not heavily invested in.  I did enjoy seeing more of the brother's in this book and for them to rally around the Shadows touched my heart and made this story even more bittersweet.  Because even though Trez lost the love of his life he did gain a family, people to have his and iAm's back were there had never been before.  It felt like the whole solution with the s'Hibe came together a little awkwardly or rushed near the end, but I accept it and am happy to move on.  I enjoyed the set up for the spin-off series that I plan on starting next.  I'm hoping that this legacy series brings us back to fighting the Lessors and some less heavy plot lines.
I wasn't expecting much with this book but was surprised at how invested in it I became.  Trez and Serena's time together might have been brief but it was very sweet.  I think there is a lesson to be learned in this book.  Do not take for granted the time you have with those you love for you do not know how long you will have with them.  Anyone can enter and leave your life in an instant.  Appreciate them, enjoy them, while you have them and once they are gone keep living while cherishing your memories.  Thank you Ms. Ward, thank you for the reminder.
My Rating: 4 Stars