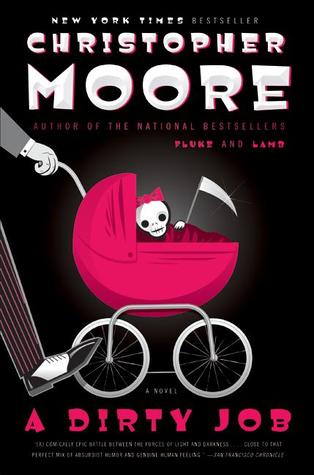 Book Genre: Humor, Fantasy, Paranormal, Gothic, Audio
Book Series: Grim Reaper #1
Released: 3/21/06 by Harper Audio
Pages: 12 Hrs  Price: $26.58
Links:  Goodreads, Author's Site
Source: I borrowed this audio book from my library.
Book Synopsis:
Charlie Asher is a pretty normal guy. A little hapless, somewhat neurotic, sort of a hypochondriac. He's what's known as a Beta Male: the kind of fellow who makes his way through life by being careful and constant — you know, the one who's always there to pick up the pieces when the girl gets dumped by the bigger/taller/stronger Alpha Male.

But Charlie's been lucky. He owns a building in the heart of San Francisco, and runs a secondhand store with the help of a couple of loyal, if marginally insane, employees. He's married to a bright and pretty woman who actually loves him for his normalcy. And she, Rachel, is about to have their first child.

Yes, Charlie's doing okay for a Beta. That is, until the day his daughter, Sophie, is born. Just as Charlie — exhausted from the birth — turns to go home, he sees a strange man in mint-green golf wear at Rachel's hospital bedside, a man who claims that no one should be able to see him. But see him Charlie does, and from here on out, things get really weird. . . .

People start dropping dead around him, giant ravens perch on his building, and it seems that everywhere he goes, a dark presence whispers to him from under the streets. Strange names start appearing on his nightstand notepad, and before he knows it, those people end up dead, too. Yup, it seems that Charlie Asher has been recruited for a new job, an unpleasant but utterly necessary one: Death. It's a dirty job. But hey, somebody's gotta do it.
My Review:
This is my first Moore book.  I'm not sure what preconceived notions I might have had before starting but I think they were met.  I have a physical copy of this book but decided to listen to it in audio format because it was sheep shearing season on our farm and none of the other books I had tagged on Overdrive sounded interesting in the moment.  This was actually a perfect choice for working outside.  Something light, funny, something it would be alright if I got distracted in what I was doing for a few minutes and missed a few paragraphs.  I've been wanting to try this author for some time now as descriptions of his humor sounded like they would be right up my alley.  I'm glad I finally gave him a shot.
This books started out a little heavy, in comparison to how most of the plot went, but even in that there was some fun twisted humor.  I think what made this book for me was the characters.  They were a pretty eclectic bunch of misfits that you can't help but fall for them.  From the beginning, though, Charlie had my heart.  I rooted for the character as he struggled to figure everything out.  What this 'dirty' job entailed to raising his daughter to figuring out his own life.  I did see one of the plot points coming a mile away but I think it was a case of the reader was supposed to know this before Charlie did.  The ending was a tad bitter-sweet but still good and I appreciated the peek into the future of these characters that Moore gave us in the epilogue.
The only real criticism I have of the book is the author was a little heavy-handed with the ethnic stereotypes.  Some of them were a little silly and one of them a little offensive.  Otherwise I find no other issues with the book.  I enjoyed listening to the story almost like a parent telling you a crazy bedtime story with  the actor vocalizing each character to fit their heritage or personality perfectly.  He managed to keep me in the story and I didn't find my mind wandering even near the end where I sat at the computer playing solitaire to finish the book tonight.
I do plan on trying more Moore books including the next one in this series even though I see it has less than favorable reviews.  Perhaps I will see if it is available in audio as well.  Anyway, this was a fun and funny story with some touching scenes thrown into the madness to keep it grounded.  I recommend!
My Rating:4 Stars