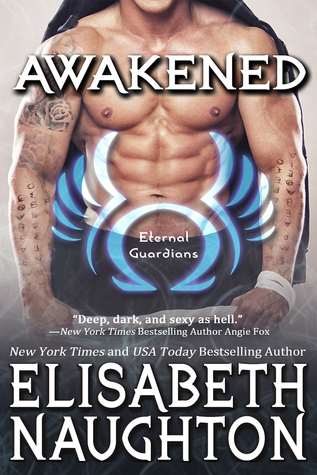 Book Genre: Romance, Paranormal, Fantasy, Greek Mythology
Book Series: Eternal Guardians Series #8
Released: 4/12/16 by Author
Pages: 252  Price: $4.99
Links:  Goodreads, Author's Site
Source: I received this book from the publisher through Net Galley for an honest review
Book Synopsis:
DAMON – For twenty-five years he's served as a plaything for the gods. With no memory of his past, he has no way of knowing if this is his ultimate fate, but he senses there has to be more to life.

Damon's hope for more comes in the form of the Sirens' newest recruit. Elysia is unlike any trainee he's ever met. Not only can she remember where she came from—an ability the Sirens block—but she has an instant connection to Damon, one he's never felt and doesn't understand. Soon Damon is willing to do anything to have Elysia. Even risk the wrath of the gods to break her out of Olympus so he can keep her for himself.

But Damon's past isn't a mystery to everyone. Evil forces are at work beneath the surface, and before long, Damon realizes that the connection he shares with Elysia isn't a random coincidence. His fate—and the darkness it brings—was cemented long ago. And when it is finally revealed, no one will be safe.
My Review:
I am going to do something I don't normally do.  I am going to review a book I'm DNF. My reasoning is that I had made a valiant effort to finish this book…kinda, and have stuck with this series for seven stories thus far.  I'm afraid this is where I part from this world as I believe I am done with is series.
Don't get me wrong it isn't that they are bad books or that I haven't enjoyed them so far, but I believe I have simply lost interest.  It happens.  This is a case of it's not you it's definitely me.  I did enjoy this world but was never terribly excited about it. I started this series when I was consuming books at a faster pace and I had plenty of reading time to spare for this series.  Now that I'm busier and seem to be struggling to even read the books I am over the moon for I feel it is time to let this series go.
As to what I thought of the 13o some odd pages of this story.  I enjoyed the beginning quite a bit.  I thought it a fun twist on a Hunger Games like theme with the female lead having to survive a series of tests she didn't choose to participate in.  Being this was an adult novel though there was plenty of "adult" games to spice up the mix.  I think where the story lost me a bit though was with the time jump. Not that it was too confusing but too much of a break and too many new characters to become vested in.  I was totally into this story until they reached the seduction training part and it suddenly became too much.  Too much sex (if that is even a thing…)  I felt like I was fighting to stay in the story so I decided to walk away this time.  Now I did have a problem with my personal life getting in the way and I started this book weeks ago, perhaps it is a case of too much time had passed and I really needed to start over again to stay focused on the story.  Or. I have simply grown apart from this world and it is time to move on.
So thank you for the enjoyable series that entertained me for some time, but this is where I part.  Perhaps I will revisit this world or try one of this author's other series as she does know how to write a good story.
My Rating:DNF