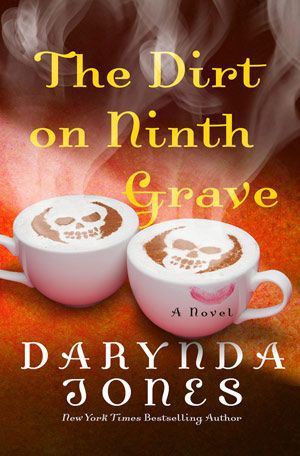 Book Genre: Urban Fantasy, Paranormal
Book Series: Book #9 in the Charley Davidson series
Released: 1/12/16 by St. Martin's Press
Pages: 326  Price: $12.99 e-book
Links: Author's Site, Goodreads
Source: I own an e-copy of this book.
Book Synopsis:
In a small village in New York lives Jane Doe, a girl with no memory of who she is or where she came from. So when she is working at a diner and slowly begins to realize she can see dead people, she's more than a little taken aback. Stranger still are the people entering her life. They seem to know things about her. Things they hide with lies and half-truths. Soon, she senses something far darker. A force that wants to cause her harm, she is sure of it. Her saving grace comes in the form of a new friend she feels she can confide in and the fry cook, a devastatingly handsome man whose smile is breathtaking and touch is scalding. He stays close, and she almost feels safe with him around.

But no one can outrun their past, and the more lies that swirl around her—even from her new and trusted friends—the more disoriented she becomes, until she is confronted by a man who claims to have been sent to kill her. Sent by the darkest force in the universe. A force that absolutely will not stop until she is dead. Thankfully, she has a Rottweiler. But that doesn't help in her quest to find her identity and recover what she's lost. That will take all her courage and a touch of the power she feels flowing like electricity through her veins. She almost feels sorry for him. The devil in blue jeans. The disarming fry cook who lies with every breath he takes. She will get to the bottom of what he knows if it kills her. Or him. Either way.
My Review:
Just a warning I had a really crummy day so this review is not going to be as peppy or exuberant and I had wanted.  Still if I am going to move onto my next book I need to write this review up.  Okay, now on with the show…
Okay I keep seeing other's negative reviews for this series and I have to wonder if they are reading the same books I am.  I get it sometimes we get tired of drawn out series, it happens.  Perhaps if it is getting stale for you, you should just move on and not rain on the parade for those of us who are still loving it.  I fall into the category of still loving it as far as this series goes.  These characters just work for me and I am in it for the long haul.  This book delivered big time for me, let me tell you why…
Now Ms. Jones you need to be putting some warning labels on your books. For example: Warning:Do not read this in public, Warning: Be ready with tissues, Warning: Smoking hot alpha-male lead that no human man could ever hope to live up to inside.  All of these would be helpful, feel free to borrow.  This book had me all over the place emotionally.  I laughed, fanned myself to prevent over-heating, cried (big ugly tears, hiccups and all), and of course I laughed.  This book hijacked me emotionally and would not let go until the very end, and now I have to wait…again. My favorite moment that ruined me for all men, sorry hubby, was at the end of chapter 11.  I would share more with you, but I do not want to deny you the sensation of melting into a little warm pile of goo over all the feels.  If I was to get a line from a book tattooed upon my body it would be that one.
As to the plot, this Charley Davidson book took us down a little different path from the last one.  The setting was different, Charley had the whole amnesia to overcome, the baby was nowhere to be seen(that one I'm kinda happy about…) it was a great way for Ms. Jones to shake things up and refresh the plot a bit.  We still had those moments where she took us from tears of sadness to joy in a single page, but we also got to experience Charley and Reyes as a new couple again. We got to fall for him all over again and it was wonderful.  There was some excellent development to the greater plot over what Charley really is and her purpose, but we also learned a bit more about the role that is in store for Reyes.  Personally these parts intrigue me deeply and I hope they get some more focus and page time in future books.
Over all I loved this book, a lot.  The series still works for me and I loved every single minute of reading this book, so much that I reread the last 40 pages twice before writing this review, but that might have had more to do with my crummy day and trying to salvage my excitement for the review.  Anyways… I am all aboard the Charley and Reyes train and am desperately waiting for our next station.  I LOVED this book and hope you do too!
My Rating: 5 Stars