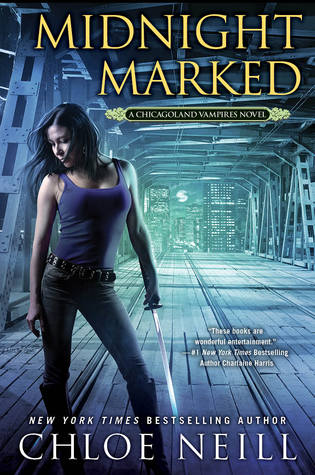 Book Genre: Urban Fantasy, Paranormal
Book Series: Book #12 in the Chicagoland Vampires series
Released: 3/1/16 by Berkley Publishing Group/ NAL Romance
Pages: 368  Price: $15.00 paperback
Links: Author's Site, Goodreads
Source: I received a copy of this book from the publisher through Net Galley for an honest review.
Book Synopsis: 
As the Chicagoland Vampires series continues, Merit and Ethan find themselves in a deadly game of cat-and-mouse, where winning may require the ultimate sacrifice…

A vampire's grudges don't stay dead long…

Merit is one of Chicago's most skilled vampire warriors; these days, she doesn't scare easily. But she and Master vampire Ethan have made a new and powerful enemy, and he won't give up until he owns the Windy City.

With his last plan thwarted, he's more determined than ever to watch Cadogan burn. Ethan has put the House's vampires on high alert, but their enemy will stop at nothing, including pitting vampire against vampire…

In this deadly game of cat-and-mouse, the stakes are life or death—and winning might mean sacrificing everything…
My Review:
I loved this book.  Loved, loved, LOVED it!  If you are a fan of the Chicagoland vampire series this is a MUST read contribution to the series.  I'm telling you do not miss this book.  Now to try to tell you why while remaining spoiler free… Man this is going to be tough.
This book is the one we have been waiting for when it comes to Ethan and Merit.  Okay this is not a total spoiler as this book does leave off with much more to come, but their relationship really shines in this release.  Theirs has not been an easy path, but we get to see everything that makes these two a great pair in Midnight Marked.  The chemistry, head-butting, ass-kicking, tastefully done sexy scenes, humor, mystery, drama, this book has everything I love about the series played out among the streets of Chicago.
Some of you may know that I've been in somewhat of a reading slump for the past year, this book reminded me of everything I love about reading.  I got lost in its pages.  I didn't want to put it down and only did so last night because I could not keep my eyes open to read the last 40 pages.  I haven't felt this way about a story in quite some time.  So for that reason alone thank you Ms. Neill for giving me a book I so desperately needed right now.
I finished this book up in tears and laughs with a smile on my face and wishing I didn't have to wait to read the next.  This world has much more area to explore and issues to resolve for not only Ethan and Merit, but all the supernaturals that call Chicago home.  This was a great read and again if you are a fan of this series do not wait to read this one!  I hope you enjoy it as much as I did.
My Rating: 5 Stars