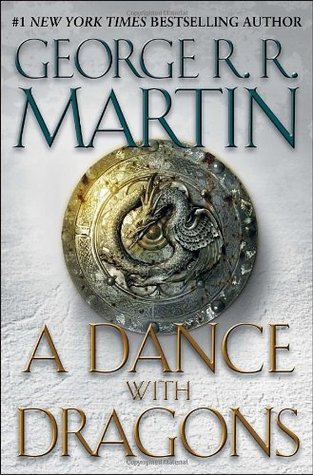 Book Genre: High Fantasy
Book Series: Book #5 in the A Song of Ice and Fire series
Released: 7/12/11
Pages: 1125
Links: Author's Site
Source: I borrowed an e-copy of this book from the library
Book Synopsis:
In the aftermath of a colossal battle, the future of the Seven Kingdoms hangs in the balance — beset by newly emerging threats from every direction. In the east, Daenerys Targaryen, the last scion of House Targaryen, rules with her three dragons as queen of a city built on dust and death. But Daenerys has thousands of enemies, and many have set out to find her. As they gather, one young man embarks upon his own quest for the queen, with an entirely different goal in mind.

Fleeing from Westeros with a price on his head, Tyrion Lannister, too, is making his way to Daenerys. But his newest allies in this quest are not the rag-tag band they seem, and at their heart lies one who could undo Daenerys's claim to Westeros forever.

Meanwhile, to the north lies the mammoth Wall of ice and stone — a structure only as strong as those guarding it. There, Jon Snow, 998th Lord Commander of the Night's Watch, will face his greatest challenge. For he has powerful foes not only within the Watch but also beyond, in the land of the creatures of ice.

From all corners, bitter conflicts reignite, intimate betrayals are perpetrated, and a grand cast of outlaws and priests, soldiers and skinchangers, nobles and slaves, will face seemingly insurmountable obstacles. Some will fail, others will grow in the strength of darkness. But in a time of rising restlessness, the tides of destiny and politics will lead inevitably to the greatest dance of all.
My Review:
One month and one day.  That is how long it officially took me to read this book, but it felt like an eternity spent in hell.  I am so done with this series. I just don't care anymore.  I don't.  I'm done with characters I am rooting for dying and I'm tired of epic journeys and 1000+ pages of story that leads nowhere.  This is where I check out.  Thanks for saving the genre for me, but I am ready for this story to be over and there is three more bloody books to come.  I'm not up for the wait, I just want to move on with my life.  If this series is ever finished I will find some spoiler review and learn in a few paragraphs what happen instead of wasting another few months slogging through so much freaking information and characters I just don't give a damn about.  Yes, I'm mad.  This book took up a MONTH of my life and nothing fucking  happen.  NOTHING.
Okay rant over. I feel marginally better.
Okay on the whole those committed to this series will probably want to read this book, but they may find disappointment because this story just felt like it went nowhere.  Martin was setting up two epic battles and we spend the 1000 pages following around the pieces of his game as he put them in position.  Then he left us hanging after killing off a beloved character of course.  Can't have a Martin book without one or several deaths of pivotal characters.
I remember in the last book longing for the missing story of the characters P.O.V that took place in this book only to miss the ones from the last book while reading this one.  I'm just not a fan of how Martin broke up the two stories.  Granted it would have made for a much longer book if he had combined them, but perhaps it would have been a more interesting one.
I don't have much to say beyond I'm done.  It wasn't an awful book, more tedious really.  Made me realize I just don't care how everything ends up.  After about 200 pages or so I lost all excitement I felt for this journey and I started dreading my reading time.  This is a clear signal that it is time to move on, and so I shall.  Let me know how it all turns out.
My Rating: 2 Stars