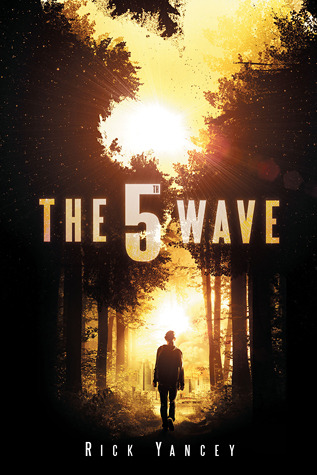 Book one in The Fifth Wave Series: Released 5/7/13: 457 Pages
I borrowed this book from my library
Book Synopsis:
After the 1st wave, only darkness remains. After the 2nd, only the lucky escape. And after the 3rd, only the unlucky survive. After the 4th wave, only one rule applies: trust no one.

Now, it's the dawn of the 5th wave, and on a lonely stretch of highway, Cassie runs from Them. The beings who only look human, who roam the countryside killing anyone they see. Who have scattered Earth's last survivors. To stay alone is to stay alive, Cassie believes, until she meets Evan Walker. Beguiling and mysterious, Evan Walker may be Cassie's only hope for rescuing her brother–or even saving herself. But Cassie must choose: between trust and despair, between defiance and surrender, between life and death. To give up or to get up.
My Review:
Warning.  This review is going to consist of an unpopular opinion about a much-hyped highly-rated ya book.  If you are a sensitive author or rabid fan of this book walk away now.  This book was not for me and I may share personal view points you do not agree with.
Still here.  Good.  On with the review.
I have recommended this book to so many people, talked about on Top Ten Tuesday and even got super excited about it again once I saw the trailer for the upcoming movie.  I pushed the book up in my reading priority and checked it out one fall afternoon.  Then promptly checked it back in a week later.  It should have been an omen to me that this book and I were not meant to be.  Still a week or less later I finished up the other book I was struggling with and rechecked this one out and actually started it.  It took me 16 days to read this book.  16 days!!!  If you know me you know that I could read like 5 books in that amount of time.   I should have stopped around page 100 or so, but I pushed on chalking it up to reading apathy, but by the end I think it was a fair mix of personal issues and just not the right book for me.
The main problem I faced was pacing.  It was far too slow for me.  This book has a lot of world building in the beginning and I needed more action to grab me and suck me into the story.  It also took quite a while to figure out what had happen with mixed-up flashbacks that got a bit distracting.  The characters were alright, no one that I really disliked, but no one I really wanted to root for either.  I also spent half the freaking book waiting to meet the bleeping aliens that I lost interest.   I spent far too much of the book wanting to be excited about the story only to fall into frustration waiting for things to be explained.
Eventually we get enough back story and the flash backs fade into history and we stick in the current time line.  Then bam we switch perspectives and have to get used to being in the head of a whole new character.  It wasn't that bad and I understand why it was necessary, to show us the action in several different locations.  While it was nice to see more of what was going down, but I would often find myself wanting to return to the previous person and finish up what was going down there first.  The romance was lukewarm at best, kinda creepy at worst.  Haters of love triangles or fourangles… may find frustration with this book.  There were some interesting parallels to WWII death camps that might fly over some younger reader's heads, or maybe not I don't know what they are teaching kids these days in history class.  Lots of guns and violence, but the end of the human race is the central plot point so I don't see how it could be avoided.  I just happen to be reading it around the time of some major shooting in the news and I found it a bit uncomfortable.
I didn't hate the story, but I was never really excited about it either.   I think this book is just further evidence that I am over my enamor for YA reading material.  At age 41 I am over the high school crushes and love triangles.  I just can't relate anymore.  This book is a case of I so loved the concept way more than the execution. I had high hopes for this book, but in the end I think this is where I leave the series.  I honestly just don't care what happens next.  I will still be recommending it  to fans of dystopian YA because I think there will be plenty out there that will enjoy this.   For me though it just didn't click.  Well I tried.
My Rating: 2 Stars