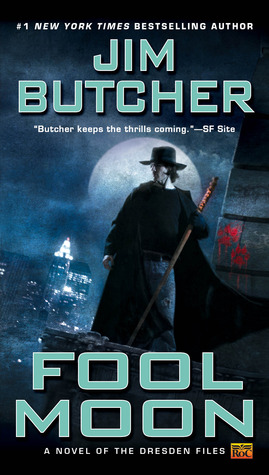 The Dresden Files series #2: Release date January 2001: 136/342 pages read
I owned a copy of this book
Book Sysnopsis:
Harry Dresden–Wizard
Lost Items Found. Paranormal Investigations. Consulting. Advice. Reasonable Rates. No Love Potions, Endless Purses, or Other Entertainment.

Business has been slow. Okay, business has been dead. And not even of the undead variety. You would think Chicago would have a little more action for the only professional wizard in the phone book. But lately, Harry Dresden hasn't been able to dredge up any kind of work–magical ormundane.

But just when it looks like he can't afford his next meal, a murder comes along that requires his particular brand of supernatural expertise.

A brutally mutilated corpse. Strange-looking paw prints. A full moon. Take three guesses–and the first two don't count…
My review:
That's it.  I give up.  I just can not continue… I am obviously not a Dresden fan.  When I rather figure out what is smelling in my kitchen than sit down and read a book it is time to wake up and give up on that series.  I'm sorry to all the fans, but I just don't like this series and I am not going to continue on.  I made it 136 pages in and took a look at how many more there was to go and I couldn't read another page.  I gave this series a shot, a whole book and a quarter but this is where I leave it before it ruins the fantasy genre for me.
So why didn't this one work for me.  I am not a fan of how women are written in this series and I simply don't like Harry.   It is like being inside the head of a twelve-year-old boy and I am not interested in exploring what is up there. Now as far as paranormal characters go witches are my least favorite, there are exceptions of course, but this is not one of them and I consider wizards to be another form of witches.  This story also couldn't capture or keep my attention, at 130 some pages I wasn't excited about what was going on in the plot or the characters involved.  I even set this one down for some required work reading last week and didn't want to pick it back up again.  Life is too short to read what you don't like and I was giving this book far more opportunity to impress me than most.  This afternoon I woke up and said to myself I would have put other books down by now, so now I do this one as well.  I was holding out because of the love this series garnishes from its fans, but I just couldn't see what all the fuss was about.
I tried, but it is time to move on…
My Rating: 1 Star