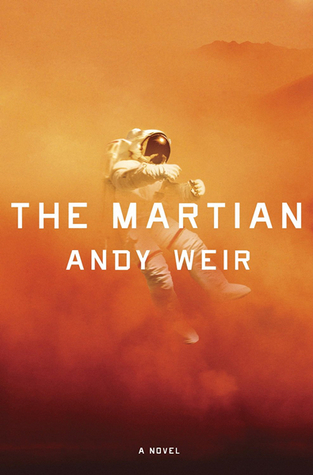 Stand Alone: Released 2/11/14, second reading
I had originally received this book from the publisher for an honest review
Book Synopsis:
Six days ago, astronaut Mark Watney became one of the first people to walk on Mars. Now, he's sure he'll be the first person to die there. After a dust storm nearly kills him & forces his crew to evacuate while thinking him dead, Mark finds himself stranded & completely alone with no way to even signal Earth that he's alive—& even if he could get word out, his supplies would be gone long before a rescue could arrive. Chances are, though, he won't have time to starve to death. The damaged machinery, unforgiving environment or plain-old "human error" are much more likely to kill him first. But Mark isn't ready to give up yet. Drawing on his ingenuity, his engineering skills—& a relentless, dogged refusal to quit—he steadfastly confronts one seemingly insurmountable obstacle after the next. Will his resourcefulness be enough to overcome the impossible odds against him?
My Review: First Review Link
I'm not going to make you sit through a second gushing of love for this book.  If interested you can read my first review linked above, much of it still represents what I think and feel for this book.  So that makes for a pretty short review huh, thought you were off the hook. Sorry, but no.  I am going to talk about thoughts about the upcoming movie based on the book hitting theaters on October 2, 2015.
First off I knew Hollywood was going to make this into a movie! I knew it.  Probably was in the works already at my first reading so I am going to forgo the told you so…  The movie is the reason I decided to reread the book, because on opening weekend I plan to have my butt in hopefully an Imax theater (loved it so much I'm willing to spend the big bucks) ready to watch the words come to life before my very eyes.  I have high hopes Hollywood you better not let me down!
I already have issues though.  For starters the casting of Mark Watney.  I just do not see Matt Damon as Mark.  Nope. Not at all.  I am afraid he isn't going to pull off the humor that is the very essence of Mark's character.  I don't know who I would have picked, but Matt Damon would not have been it.  I am reassured a little bitty bit by the previews, but will hold finial judgement until I see the movie in its entirety.
As to the rest of the cast I am pretty satisfied for who they picked, especially for the crew of Hermes.  All of them look like stellar picks.  I won't be pointing out that cleverly placed pun…  With the lines from the book fresh in my mind I am delighted to hear so many of my favorites in the trailers already.  I won't spoil it for those who have yet to read it.
Speaking of that.  IF you've not read this book yet, please do so before you watch the movie.  You need to experience Mark Watney in his full glory before Damon comes in and forever taints the character with his own personality.  Also they are never going to fit the entire book into a 130 minutes and there is so much great material that you will have missed if you only see the movie.  So get cracken people.  Time is running out and the adventure of a lifetime awaits you!
Second Reading Rating: 5 Stars, no change