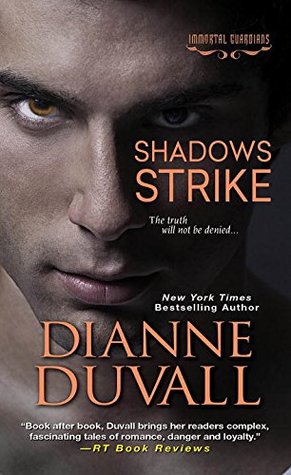 Book #6 in the Immortal Guardians series: Release 8/25/15
I received a copy of this book from the publisher through Net Galley for an honest review.
Book Synopsis:
The Immortal Guardians protect the innocent in secret. Sometimes the secret gets out…

U.S. law enforcement agent Heather Lane can read minds. But not the future. The dream of battle and blood that recurs every night must be a fluke, some obscure terror from her own mind. What its significance might be, she can't guess: an attack from seven psychotic vampires at once, only separated from nightmare by an eighth very different immortal. A handsome, brave man fighting at her side, a man she misses when she wakes.

Then the dream comes true. Heather is flung into a war between predators and protectors of humanity, the man from her dreams beside her again. Except now that she's awake, she isn't sure she can trust Ethan, or the shadow organization he represents. The U.S. military doesn't trust either of them. But against an onslaught of evil like the one that's coming, it will take everything they have just to survive…
My Review:
I just got to say this is quickly becoming one of my favorite authors, I mean a top-tier favorite author.  I find myself looking more and more forward to her next book and the world she has created just keeps getting better!  I'm going to compare her to my absolute favorite Kenyon.  I think her writing style and series feels familiar to the Dark-Hunter world and fans of Kenyon should definitely check Ms. Duvall out!  Now let the gushing commence.
Now I've given high ratings to most of the books in this series, but this one folks, this one gets the first five stars from me.  Not that I'm all the difficult to impress, but still this book clicked for me.  The heroine, the hero, the supporting cast, the bad-guy.  Everything worked.  The only criticism I have is that I don't want to have to wait for the next book.  This book left off with some major shit about to go down and I need to know what is going to happen.
This story takes place a year after the last one and the Immortals are still dealing with the aftermath of that book.  It looks as if it hasn't been an easy year and they are all struggling to keep up with the bad guy who is trying to bring about Armageddon.  All of our favorites are there and we get to see Seth and Zach deal with the Others on quite a few pages.  I still am lobbying for Seth to get his own book!  I want to see him get a HEA and learn more about his background. We spend much of this book at David's house as the Immortals rally the troops to protect their own and prepare for a war where the rules are rapidly changing.
The heroine was the closest I've come to being able to identify with.  Her reactions and level-headedness were portrayed all how I would see myself handling the being trust into a world were I suddenly learn all the monsters of the night really exist.  Okay she probably knew how to handle herself better in a fight than I would, but I can dream can't I…  She was funny, smart, caring and strong in more ways than one.  I also loved her dad, it was a hoot to see a hero have to deal with meeting the father.  Gave our hero Ethan some much-needed comic scenes and kept the story from getting too heavy.
The book was an excellent balance of action, romance and humor.  Heather and Ethan were a perfect pairing and quickly morphed into an old married couple with lots of steamy scenes.  I enjoyed watching them come together.  I liked the introduction of more "civilians" to help fight the others, it is going to be one helluva war and they are going to need all the help they can find.
LOVED this book, and like I said Kenyon fans start at the beginning and enjoy this new world to play in.
My Rating: 5 Stars!