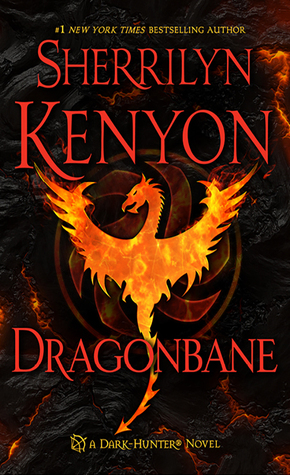 Book # 31 in the Dark-Hunter Universe: Released 8/4/15
I owned a signed copy of this book!
Book Synopsis:
Out of all the mysterious boarders who call Sanctuary home, no one is more antisocial or withdrawn than Maxis Drago. But then, it's hard to blend in with the modern world when you have a fifty foot wingspan.

Centuries ago, he was cursed by an enemy who swore to see him fall. An enemy who took everything from him and left him forever secluded.

But Fate is a bitch, with a wicked sense of humor. And when she throws old enemies together and threatens the wife he thought had died centuries ago, he comes back with a vengeance. Modern day New Orleans has become a battleground for the oldest of evils. And two dragons will hold the line, or go down in flames.
My Review:
What can I say, love me some Kenyon.  Okay like 95% of the time, they all can't be winners.  This one however worked for me is the most spectacular way!  It reminded me of earlier books in the series.  The fun banter between characters, set in New Orleans at Sanctuary for most of the book, and so many familiar characters that show up and get their hands dirty defending Max.  LOVED, loved, loved this book and am totally digging this three-story arc where we are learning more about the dragons.
So before I get all gushy, was there anything that I didn't like about the book.  I thought Seraphina was a bit of a schmuck for her past actions in her relationship with Max.  Characters grow though and Kenyon is always about there is two sides to every story.  I've learned that there is no redeemable characters in her world, so don't get too comfortable in hating anyone.  Lesson learned from Styxx, who I love more than Ash now.  Also everyone makes mistakes, but until someone is dead we should all be able to be forgiven and redeemable.  Missed Simi, but was fine with the amount of time spent with Ash and Styxx, they have families and lives now time to move on to new heroes and heroines that need their H.E.A.  I did want more time with Savitar who is quickly becoming my new obsession in this world.  The book did also end with a cliffhanger, tis a middle book after all.  The stage is all set for a major war to bust wide open and we have to wait a freaking year!
So what particularly delighted me about this book.  Learning about the dragon's history and lore was fun.  Max has been there from the beginning and I was happy to finally hear his story.  We learn so much more about how the Were-Hunters originated and how the war between the two types began.  I liked all the other dragon characters and am excited that Max's brother Illarion will be the focus of the next book.  I don't want to spoil anything, but there were children in this book (won't tell you whose) and it was refreshing to have them be older almost grown instead of just toddlers or infants.  Already mentioned that I am becoming obsessed with Savitar and was delighted that his yummy self was featured so prominently in the second half of the book.  Fingers crossed his book comes soon!  Basically it was just a fun book.  I got to spend several days with my old friends fighting for one a long-standing character in a book that delved deeper into the history and lore that makes up this universe.  Yes sometimes Ms. Kenyon's books can follow a familiar pattern to them, but hey it still works for me and I enjoy picking up a book in this series and know more times than not I'm going to love my time spent there.
 My Rating: 5 Stars
Reminder!
I am giving away a signed copy of Dragonbane!  More details can be found on the Giveaway tab at the top of the screen, this post, or my Facebook page.
10 days left as of this posting
Open to United States and Canadian residents ONLY!
Sponsored by Read What I Like Blog
Good Luck!