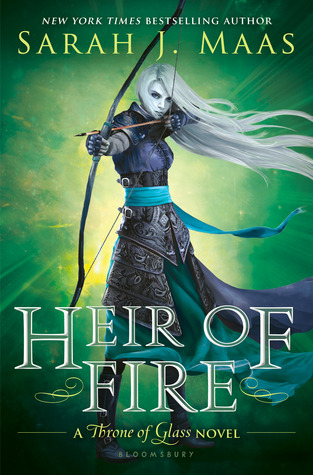 Book #3 in the Throne of Glass series: Released 9/2/14
I borrowed this e-book from my library saving me $12.99
Book Synopsis:
She was the heir of ash and fire, and she would bow to no one.

Celaena Sardothien has survived deadly contests and shattering heartbreak—but at an unspeakable cost. Now she must travel to a new land to confront her darkest truth…a truth about her heritage that could change her life—and her future—forever.

Meanwhile, brutal and monstrous forces are gathering on the horizon, intent on enslaving her world. To defeat them, Celaena must find the strength to not only fight her inner demons but to battle the evil that is about to be unleashed.

The king's assassin takes on an even greater destiny and burns brighter than ever before in this follow-up to the New York Times bestsellingCrown of Midnight.
My Review:
I decided to borrow this book after abandoning my re-read of Harry Potter.  Potter just couldn't deliver the magic it once held for me so I moved on and found it right smack dab in the middle of this world.  This series had everything I was wanting from Potter's but couldn't find; romance, adult situations, more complex characters. Still this was going to be a three, maybe four star read for me, but BAM  that ending changed the game and left me a little shell-shocked and pushed it right up to a five-star rating from me.  Okay maybe in a couple of days I'll mellow back down to four, but first reaction after finishing is five stars.
It wasn't such a smooth ride though. I did struggle with the story a bit.  My main problem was the switching back and forth between three areas of action.  I was fine with reading about the boys and what was happening in the glass palace and switching to Celaena in the new land, but then Maas threw in a story line about the witches that I was not into at all.  It did grow on me in the end and I see the importance of the information we learned, but for most of the book I was like common I don't care about these people take me back to Celaena!  I also grew frustrated with the part in the Glass Palace, but I warmed up to those much quicker and became quite vested in what was going on with Dorian.  Still what drove me through most of the book was getting back to what was happening with Celaena.
A ton of new characters were introduced in this book. Most of them I adored including a very crush-worthy Rowan, a full-blooded Fae. He was such an ass for the first half of the book, yet he sucked me in and I fell for him and his won't-take-crap attitude pretty quick. I am so delighted that he was added to this world and will be sticking around for the next book.  We also meet Aedion, Celaena's cousin.  Finally somebody who knew her from the beginning!  He too came off as kind of an ass, must be a Fae trait, but quickly we come around and learn what a noble character he truly is.  Our time with Celaena is also spent around more of the Fae and we learn quite a bit about their culture, powers and history.  It is also revealed what all Celaena has gone through in her short life.  Now I still think she can be a brat sometimes and needs to wallow a bit less on the crap that has happen to her, but I can see that this is part of her personal growth as a character.  She needs to go through this to become what she is destined to be.
The boys story line about broke my heart, so much development in not only their character, but personal lives.  I'm proud of them both and so very worried about their future.  There is not one hero in this world, but three and both Chaol and Dorian have my respect.  Chaol took the longest to earn it though, but in the end he came to his senses.  I was so ready to shake him though, but I guess he too needed to make decisions in his own time.
The end of this book was so shocking.  I mentioned in my last review how Maas had set up this giant board and placed all the pieces for the battle for this world.  Much of this book is the players learning how to wield their weapons, and in the second half we have our first few battles.  It was amazing to watch and I am looking forward to the next book.  This series has become so much more than what I was expecting.  It continues to develop and has grown into an epic fantasy that is one of the best I've read.  Such an amazing ride full of everything I'm looking for in an escape.
My Rating: 5 Stars