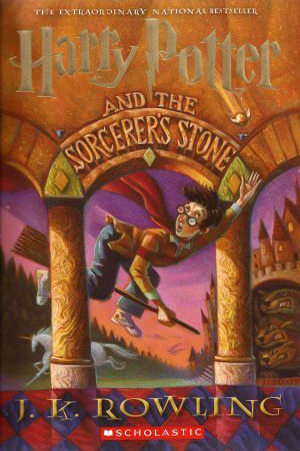 Re-Read Review: Details Here
This is a second reading review of this book as I was not reviewing books at the time of my first read it is also my first review of the book.  The review will be a little different from my normal ones, more of a insight into how the story has changed for me as I've changed as a reader.  Oh there might be spoilers, but you did have 18 years to read the book or watch the movies…
Book #1 in the Harry Potter Series: published 6/26/1997
I own a copy of this book
Book Synopsis:
Harry Potter thinks he is an ordinary boy. He lives with his Uncle Vernon, Aunt Petunia and cousin Dudley, who are mean to him and make him sleep in a cupboard under the stairs. (Dudley, however, has two bedrooms, one to sleep in and one for all his toys and games.) Then Harry starts receiving mysterious letters and his life is changed forever. He is whisked away by a beetle-eyed giant of a man and enrolled at Hogwarts School of Witchcraft and Wizardry. The reason: Harry Potter is a wizard! The first book in the "Harry Potter" series makes the perfect introduction to the world of Hogwarts.
My Review:
It is hard to believe that Harry Potter is 18 years old, old enough to vote!  I did not read the book when it was first released, like many series I jumped on the band-wagon a few years after it became popular.  I wish I had notes or a review from my first reading of these books, but alas I do not, still I'm finding it interesting to compare what I think I thought of the series to what I now think with many more books under my belt.  I still enjoyed book one, but I was surprised how some of my opinion has changed…or at least I think has changed.
Surprise number one. I didn't hate the Dursley's as much as I did the first time.  I could actually see their point a teeny tiny bit.  They were trapped into raising this child without any help and any information as to his needs, I think for the most part they thought they were doing the right thing.  Oh sure they were obnoxious mean bullies, but I think I might resent someone too if they were forced upon my peaceful home by a bunch of people I didn't agree with.  It doesn't excuse the way they treated Harry, but I can understand it.  They are human, make mistakes and have prejudices.  I get it.  I think more of the blame for Harry's upbringing falls at Dumbledore's feet for leaving him there in the first place and not checking in on him.  Surely there could have been a better place found for him.  I think his excuse of being too famous to receive a normal childhood is a lame cop-out.  Shame on Dumbledore.
The second surprise was how much I did not like Hermione.  Gasp! Sacrilege, I know.   She is one of the most loved characters in this entire series, but I just didn't like her.  The first half of the book she is a serious stick-in-the-mud and an obnoxious know-it-all.  I couldn't wait until she was out of the scene for much of the book.  Of course she starts to change towards the end, but still at the end of book one I couldn't help thinking  – Why does everyone love her so much?  I know she will evolve even more over the next few stories, but still, one of the most annoying characters (for me).
This is such a complex world and adventure for the three main characters that it is interesting to read it this time knowing what is going to happen.  I find myself looking at characters differently;  Neville, Snape, Dumbledore, and Ginny all have caught my attention faster than they did in my first read.  It is fun to notice little pieces of the puzzle that were laid there for us to find along the way.  This time I just know where they belong in the greater picture and I feel like Ms. Rowling has let me in on a secret.  Great fun!
While I did enjoy this book I find myself feeling that I gave it too high a star count before.  That probably comes from the fact that I read it much earlier than I listed and rated it, also my overall impression of the series as a whole overshadowed individual books in the series.  With my fresh read I think I'm going to demote it two stars and give it a three.  Still a most excellent read, but not as spectacular as I remember.
My Rating: Three Stars