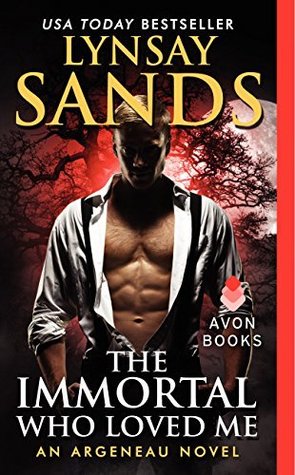 Book #21 in the Argeneau series: Published 2/24/15
I borrowed this book from my library saving me $7.99
Book Synopsis:
A few hours ago, Sherry Carne would have sworn that vampires didn't exist. That's before rogue immortals rampage through her store, leaving bloody chaos (literally) in their wake. The kicker comes when Sherry learns that one of the vamps on the bad guys' trail may be her life mate. Her head says it's impossible. The rest of her takes one look at Basileios Argeneau and has much more interesting ideas.

Whatever Basil expected in a life mate, funny, outspoken Sherry isn't it. But mind-blowing chemistry and instinct don't lie. They tell him something else, too—that Sherry's connection to the immortal world goes deeper than she knows. And that she's in the kind of danger only Basil can save her from—if she'll just trust him, now and forever . . .
My Review:
I had avoided this book for a few months, when normally I would snatch up one of Ms. Sands's books as soon as it hits the shelves.  My reason; I didn't enjoy the last two books and I was afraid of being let down again by this one.  So I waited, looked at it each time I went to Target, but just couldn't bring myself to bring it home.  I saw it was available at a new library I joined and decided I'd put it off too long and checked it out.  Then it sat there on my coffee table for two weeks until I started to feel the pressure of its due date looming and I settled in to finally read the blasted book I was afraid to start.  I SO love this series and just didn't want to think it might be time to give it up, and I would have if this book was a disappointment too.
Good thing I LOVED it, and plan on bringing home my own copy next time I visit Target to add to the other 20 books in the series I already own.  See library usage can lead to book sales… I was so relieved that this book felt like earlier stories I had enjoyed in this long run series.  Sure they are formulated vampire romances, but who cares!  They are fun light-hearted sexy fluff that I love to escape into.  It's like a cheesy movie that you can't stop re-watching.  We all need a little fluff in our lives to make us smile, to make us happy, and Ms. Sands's books do that for me.  This book had everything I love about this series, a fun inst-love vampire romance, quick-witted dialog, a sassy heroine, a mystery to unravel, and plenty of check-ins from former favorite leads.  And Lucian.  Lucian is my absolute favorite Argeneau and he had a pretty significant role in Sherry and Basil's book.
When I went to look up what others had thought of this book I was surprised to see how many negative reviews up at the top.  I loved it, why didn't they also?  After reading a few I noticed that most of them were either tired of the formulaic feel of this series, something that doesn't bother me, and most of them were upset about the issue of rape in this book.  While I agree that rape is a horrific crime and a sensitive topic, that does not mean it should be taboo.  How often in real life would a rapist get off lightly for the crime he committed if it was like the one described in this story.  Quite often I bet, and they shouldn't.  Ms. Sands's rapist was caught and is going to pay for his crimes in a very painful manner.  So I am satisfied and not offended that it was part of the plot.
This book also brought about resolution to the long-run Leo story arc and I am happy to see that come to an end.  It also felt like Ms. Sands worked to explain some of her plot holes when she did her info-for-new-readers section to set up the world for them.  I appreciated that as well, made reading that section more interesting for long time series followers.
This was Basil and Sherry's book and I thought they were a great pairing.  I liked them both and it was fun watching them come together.  I had wished the book was a couple of chapters longer though.  We are left with a cliffhanger, something that is not new for this series, but I wanted to know more.  I wanted to see what happen the next day.  I'm hoping that it will be continued in the next book which is Justin Bricker's book.  About. Damn. Time!  I'm back on board with this series, thank you Ms. Sands for an excellent read.
My Rating: 5 Stars