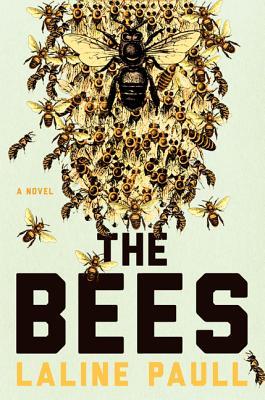 Stand Alone: Released 5/6/14
I borrowed an audio version of this book from my library saving me $ 59.99 (audio price)
Book Synopsis:
The Handmaid's Tale meets The Hunger Games in this brilliantly imagined debut set in an ancient culture where only the queen may breed and deformity means death.

Flora 717 is a sanitation worker, a member of the lowest caste in her orchard hive where work and sacrifice are the highest virtues and worship of the beloved Queen the only religion. But Flora is not like other bees. With circumstances threatening the hive's survival, her curiosity is regarded as a dangerous flaw but her courage and strength are an asset. She is allowed to feed the newborns in the royal nursery and then to become a forager, flying alone and free to collect pollen. She also finds her way into the Queen's inner sanctum, where she discovers mysteries about the hive that are both profound and ominous.

But when Flora breaks the most sacred law of all—daring to challenge the Queen's fertility—enemies abound, from the fearsome fertility police who enforce the strict social hierarchy to the high priestesses jealously wedded to power. Her deepest instincts to serve and sacrifice are now overshadowed by an even deeper desire, a fierce maternal love that will bring her into conflict with her conscience, her heart, her society—and lead her to unthinkable deeds.

Thrilling, suspenseful and spectacularly imaginative, The Bees gives us a dazzling young heroine and will change forever the way you look at the world outside your window.
My Review:
I spent much of the week planting my garden so I thought this book would be an appropriate selection to listen to while I worked.  The book was read by Orlagh Cassidy who did an excellent job of making each character sound distinctive and brought to life with their own personality.
The book itself was one that I toyed with reading for some time now.  I was intrigued by its premise, but never really excited to pick it up and start.  Once I saw it was available through the library in audio I decided to give it a try with my limited options offered to me at the time.  In the end I think the audio format was a good decision for this story for I think I might have not stuck it out with this one either.
The story is kind of strange and probably not everyone's cup of tea as it is told from the perspective of a bee in an anthropomorphic society that, to me, must resemble what life would be like inside a cult.  We follow the heroine, Flora from birth to death as she works her way through this twisted bee society.  I'm not sure how much this is based upon real bee life, but this book definitely made me want to learn more about bees.
For the most part there was a bit of eye rolling on my part, but the story was interesting to see how this society functioned.  Besides the cult like aspect there is a strong dystopian element to the story and we also get to watch Flora challenge her place in this world and move through the ranks and shake things up a bit.
Much of the story was a bit on the boring side for me not being interested in motherhood and all, hence my probably DNF it if I had attempted the print version, but in audio format the narrator helped to keep my interest.  I did see the end coming about half-way through the book, but it was still one of my favorite parts of the story.  There was also a fairly satisfying scene for the feminist inside me when the hive dealt with the male bees close to the onset of winter.  Kinda gruesome but one of the better part in my opinion.  I found myself rooting for Flora, even though I didn't think much of her for much of the book. The other character I also enjoyed the one male bee, I forget his name, that kept interacting with Flora throughout the story. I was quite happy for him in the end.
It was an interesting story, I'm still not real excited about it, but I'm glad I read it.  I would highly recommend it to anyone who wishes to know what it might be to live inside a cult.   A bit too much religion in the story for me, even if it was bee religion…  I did appreciate how the author brought to the forefront of how we humans are negatively affecting bees through our technology and destruction of the environment. Being the narrator was so interesting I would also recommend this one to those who enjoy listening to their books.
My Rating: 3 Stars