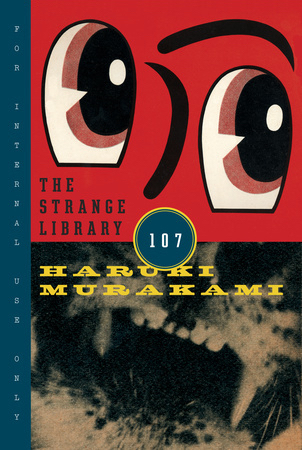 Stand alone short story: Publish in 2005
I borrowed the audio book version of this title for a reading challenge saving me $20.00(audio price)
Book Synopsis:
From internationally acclaimed author Haruki Murakami—a fantastical illustrated short novel about a boy imprisoned in a nightmarish library.

A lonely boy, a mysterious girl, and a tormented sheep man plot their escape from the nightmarish library of internationally acclaimed, best-selling Haruki Murakami's wild imagination.
My Review:
This is my first Murakami book and it might just well be my last.  This was a strange little story that I probably would not have read if not for a reading challenge that required me to try on of his books.  Not sure what to make of his writing style I went to the other reviews and according to some I've read this one not a typical story for this author, but not far off either…  Some of the strangeness I am chalking up to it being a translated work, something is always lost in the process.  The rest I am just going to file under not-for-me author.  I'm not sorry I tried him, especially since this was so short, and heck I might even try another of his audio books if it ever crosses my radar.  I'll give him the benefit of the doubt and one more shot since he seems to have such loyal followers.
This story though, was just as others described it; strange and surreal.  I'm not sure it had a point, and I spent much of the story trying to figure out what the author was trying to convey to me.  Now I'm not staying a story needs to have a moral, message or lesson to be valid, but the strangeness of this piece just led me to believe the author was trying to tell me something that was lost upon me.  I would like to take issue with how the author portrays librarians in this story, one was a cliché and the other down right monstrous.  Not appreciated.  Great way to perpetuate stereotypes and frighten people away from using a service of great value to them.  Again there seems to be no point or much of a plot to the story so I'm kind of lost on what else to review.  The imagery was bizarre, the lead character a pushover and the climatic end anticlimactic.  I did enjoy the parts of the story where the boy was reading and got lost in the experiences of the book.  I also liked the young girl and the starling.  Other than that it reminded me a lot of a less gory Stephen King bedtime story.  But still I didn't hate it, just not something I would typically read.
My Rating: 2 Stars