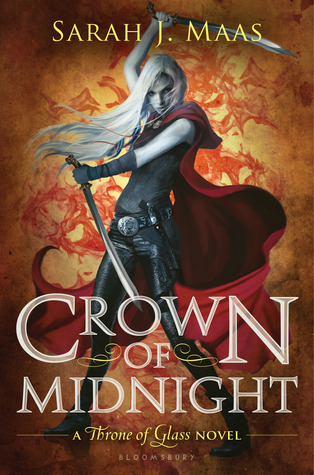 Book #2 in the Throne of Glass series: Published 8/27/14
I borrowed this e-book from my library for the #ReadingMyLibrary Challenge saving me $7.99
Book Synopsis:
From the throne of glass rules a king with a fist of iron and a soul as black as pitch. Assassin Celaena Sardothien won a brutal contest to become his Champion. Yet Celaena is far from loyal to the crown. She hides her secret vigilantly; she knows that the man she serves is bent on evil.

Keeping up the deadly charade becomes increasingly difficult when Celaena realizes she is not the only one seeking justice. As she tries to untangle the mysteries buried deep within the glass castle, her closest relationships suffer. It seems no one is above questioning her allegiances—not the Crown Prince Dorian; not Chaol, the Captain of the Guard; not even her best friend, Nehemia, a foreign princess with a rebel heart.

Then one terrible night, the secrets they have all been keeping lead to an unspeakable tragedy. As Celaena's world shatters, she will be forced to give up the very thing most precious to her and decide once and for all where her true loyalties lie…and whom she is ultimately willing to fight for.
My Review:
I can see why a friend of mine (Hey, Jen) said she liked this book better than the first.  I think I did too, and another blogger friend (Hey, Krystal) was so right about reading the novellas between books.  Knowing about Celaena's history added some much-needed insight and context to the characters and world that I also suggest people take the same route and read them first.  So much happen in this book, which almost feels like it could have been broken down into two books, that I am not quite sure where to start.
I want to begin at the end, so lets, and I will try to keep it spoiler free.  WOW!  What a cliffhanger.  I want to dive right into the next book, but it might be a while before that happens.  I came out of this book feeling like I now have a pretty good idea of what happen in this world, a refreshing change of pace and I wish other series would be so forthcoming.  It is as if Maas has laid out this giant game board, set up all the pieces, explained the rules and now we will get to watch the battle unfold.  I can't wait.  We also learn an important piece of information about Celaena at the end of this book.  Now Maas had been dropping some pretty big hind throughout the length of this story, and I figured it out about half-way through.  Actually I think everyone but poor Chaol knew this before the end, but he got to deliver confirmation about this on the last page.  I guess I was under the impression that Celaena didn't know this, but now that I think back there were hints even in the first book, but we just didn't know all the history of this world to put it all together.  Again though, wow, this is going to create some major drama!
Next I want to talk about Chaol and Dorian.  There was major movement for one of these men in this book, and I'm not surprised, but I think a piece of me wanted her to pick the other.  Now lets talk about the boys non-relationship wise.  I am pleased with the character development I see in Dorian,  he has such responsibility in his future.  I love how he is developing a bit of a backbone and is opening his eyes to more of what is going on in his father's world.  I have hope that he is going to end up a true hero and noble ruler someday.  Chaol, oh sweet Chaol.  I liked the way you were changing, opening up, the direction you and Celaena were headed, but then you slipped and in the end I must confess I'm a little disappointed in you.   To quote Cher from Moonstruck "Snap out of it" (google it up if it is before your time).  I want to slap his face and make him see what kind of man the King and Kingdom truly is.  Still I give him credit for being an honorable man.  The next book is going to force him to make a choice though, and right now I'm not really sure what that will be.
Then there is Nehemia.  I am not sure what I think of her character.  I think she has them all blinded to her true self & that I am going to need more information before I sort out what to make of her.  I do think she was a force of good, but what a manipulator!  I think Celaena's opinion and esteem that she has for her is a little unjustified, and I think Nehemia is using her for her own needs.  No matter how honorable they may be, you shouldn't use friends.
This was a great book though, and I too think it was better than the first.  I loved how much insight we were given and there was a good balance of action, romance and mystery.  I look forward to seeing what happens next once all the pieces are put in motion.  I expect the battle will be long and bloody, but oh so interesting to watch.
My Rating: 5 Stars