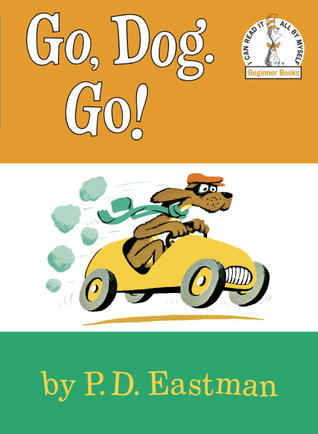 I own this book: published in 3/12/1961
Book Synopsis:
Reading goes to the dogs in this timeless Beginner Book edited by Dr. Seuss. From big dogs and little dogs to red, green, and blue dogs, dogs going up and dogs going fast . . . who knew dogs were so busy? And laughter will ensue at the repeated question "Do you like my hat?" Like P. D. Eastman's classic Are You My Mother? Go, Dog. Go! has been a go-to favorite for over fifty years, leaving audiences of all breeds wagging their tails with delight.

Originally created by Dr. Seuss, Beginner Books encourage children to read all by themselves, with simple words and illustrations that give clues to their meaning.
My Review:
(Okay I know this isn't a library book, but I read this for one of my other challenges and wanted to count it for that. )
I picked this book up at the salvation army last weekend! This was the first book I ever read on my own, so when I found it I had to bring it home. It was a little scuffed up and had the sticker on the spine, but over all in good shape. After a little cleaning up I sat down and read it. I was surprised at how long it was and how much I remembered and forgot. Still I was instantly taken back to the age of 4 or 5 and sitting on the brown sectional sofa in our living room as I read the words out loud to myself. After I finished I rushed into the kitchen and proudly told my mother what I had done. I can't remember her reaction, but I think she was in the middle of something at the time. I don't have her anymore, but now I have this book and each time I look at it I will remember that evening from my childhood and a moment in time with my mother.
My Rating: 4 Stars