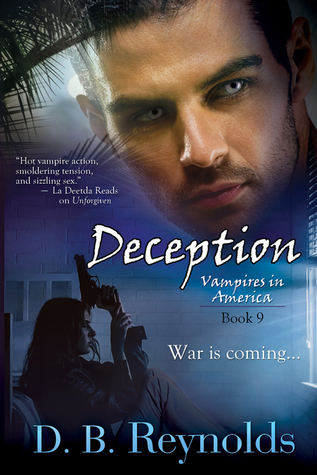 Book #9 in the Vampires in America series: Publish date 3/31/15
I received a copy of this book from the publisher through Net Galley for an honest review.
Book Synopsis:
Kauai, Hawaii—tropical paradise, vibrant jungle, turquoise sea… and sensuous nights that hide vampires so powerful they can change the world.

Raphael—powerful, extraordinary, arrogant. He's been eliminating rivals and gathering allies, determined not just to survive, but to demolish the Europeans who think they can steal what he's worked for centuries to create. In a final bid to avert a war that seems inevitable, Raphael agrees to meet an enemy he knows of old. She is formidable, wily, and not to be trusted. But in his arrogance, Raphael believes he can foil whatever treachery she has brewing.

Cynthia Leighton—Raphael's human mate, beautiful, smart, and deadly when threatened. She doesn't trust anyone, much less a powerful vampire claiming to want peace. So while Raphael prepares to negotiate a treaty, Cyn is preparing for the inevitable double-cross that she knows is coming. Raphael worries about saving thousands of vampire lives. She only cares about one, and she will do anything to keep him alive and in her arms.

When Cyn is proven right, when it all falls apart and Raphael's enemies draw on ancient magic to trap him, taking him away from Cyn and out of the war, it all falls to her—to find Raphael, to save the thousands of vampires who will die if she doesn't succeed… and to kill every single being, human or vampire, who gets in her way.
My Review:
Another winner from this establish series.  I was just reading the author's comments on Facebook this morning about this upcoming release.  She was talking about how the book signified a new chapter or story arc in the Vampires in America series.  I couldn't agree more and could really feel the shift in focus as the story changed directions and the war has finally begun!
Now normally I am not a fan of war, and wouldn't be excited over such things, the squishy liberal pacifist that I am, but this is a book, fiction, not real and with the build up to this has practically been from book one…  I'm excited to get to the action and face the treat from Europe that has only been briefly seen any play in the overall plot so far.
This book takes us back to Raphael and Cyn, who have been key player and the heart of this world from the beginning.  The series so far has been about Raphael's vision for American Vampires, how he wanted to unify them and build up alliances to make them stronger on the whole to the apparently very real threat from overseas.  Sometimes that meant coming to an understanding, but quite often that involved replacing existing, often monstrous and corrupt,  vampire lords with, lets call them, team players.   All the while delivering action packed thrill rides and a whole lot of steam.
So this book is a departure in some aspect, yes.  Instead of working to build an alliance we now get to see the fruits of all Raphael's hard work as they all must come together to face the first wave of attack from Europe.  There is still tons of steamy part and romance as Raphael and Cyn's relationship continues to grow stronger and develop.  Cyn really comes into her own in this book.  We get to see what she is made of and that she is just as strong as any vampire lord when it comes to facing a threat.  She has what it takes to protect the ones she loves and isn't going to stand by and wring her hands in the face of danger.  I'd expect nothing less from one of Ms. Reynold's heroines.  She writed no-nonsense smart female leads that are just as capable as their male counterparts.
This book takes us to a new location, Hawaii, where we get to spend some time in the tropical paradise being betrayed and then kicking some ass.  The plot moved along swiftly and had some real nail-biting moments where you were not so sure what the outcome of this story might be.  I had faith that in the end our team would be triumphant, but still there were some moments…  We have some new characters introduced, including a fun cop from Hawaii that I hope sticks around for a while.  Ms. Reynolds also hooked me with the epilogue/teaser for the next book and battle in this war for American territory.
I'm excited about this new direction this series is taking.  I believe it is going to be one helluva ride and I am definitely on board to see where the author takes us next!
My Rating: 4 Stars