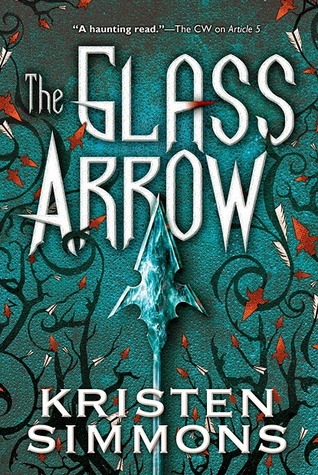 Cover art thanks to Goodreads, click on it to visit book's page there.
Stand-alone title: Released 2/10/15
I borrowed this book from my library to read for the Bloggers' Book Club selection for March 2015.
Author's Site – Amazon – Barnes & Noble
Book Synopsis:
 The Handmaid's Tale meets Blood Red Road in Glass Arrow, the story of Aya, who lives with a small group of women on the run from the men who hunt them, men who want to auction off breeding rights to the highest bidder.

In a world where females are scarce and are hunted, then bought and sold at market for their breeding rights, 15-year old Aya has learned how to hide. With a ragtag bunch of other women and girls, she has successfully avoided capture and eked out a nomadic but free existence in the mountains. But when Aya's luck runs out and she's caught by a group of businessmen on a hunting expedition, fighting to survive takes on a whole new meaning.
My Review:
This was the first selection of the newly formed Bloggers' Book Club, a Goodreads group, and I must confess I almost put it down before my 50 page DNF trial.  The book sounded an interesting, but I have had no desire to pick up anything YA for some time now, burned out on dystopian I think.  I'm glad I stuck with it, but man there were some moments where I though 'Why am I reading this'…  Still I think it, like many of the dystopian books out there, is an important read and sheds some light on aspects of our society and specifically the roles and perception of women.
I think my real problem is this is a work of fiction, but in my head I can't help thinking this is probably not far off from reality for girls and women in some societies in this current real world.  Saudi Arabia, Pakistan, Afghanistan, India the region of the Middle East controlled by ISIS to name a few.  In some parts of these countries the men think nothing of selling off unwanted daughters, or capturing woman for trafficking, and I imagine this book is not far off from the reality those females deal with every day.  Oh sure,  there are women there that have power and freedom, but for many, especially the poor, they are still thought of as little more than possessions only as valuable as their virginity or as slave labor.  Basically I have a difficult time reading a book like this without separating it from reality and I find myself all worked up ready to go on a crusade.  Perhaps that is the point though.  Why books like this one, that deal with uncomfortable topics are what is needed, to make us want to do something to change the reality this world is.  To make it better for all.
Now when I was able to move past my anger for all the injustice in the world for women everywhere I did enjoy the story.  It was written in an interesting way and I liked how the world was reveled through Aya's eyes.  She new a little more than we did about the world she lived in, but not much and it was nice to learn things along with her rather than just be told everything at once.  Over all I liked Aya.  I admired her toughness, determination and fire.  She stayed true to who she was and wasn't going to be broken.  She was also willing to do anything to keep those she loved safe, heck even those she didn't even like that much.  I thought her pretty authentic though, she wasn't a superhuman or saint, she came with flaws and quirks.  She didn't have all the answers, but wasn't afraid to keep fighting.  She was a fitting role model for this story.
Kiran of course was her love interest in the story and my other favorite character.  He was a great fit for Aya and I appreciated how the author didn't press the budding interest to develop faster than it needed to for this story.  Their feelings were able to grow and bond them together at a realistic pace through the events they both experience in this story.  I love their time together though, especially in the first section,  but also near the end too.  Probably my favorite parts of the whole story.
The supporting cast of characters were pretty well-rounded and well-developed.  Sure there were some you just wanted to hate, but in the end I could see they too were just victims of this world trapped into the roles they must play.  In the end I just felt sorry for most of them.  Well except for the men in power, most of them I just wanted to geld.
I also liked how this was a standalone book, so often in the YA world there is the push to make everything a series or trilogy.  Sometimes it is just nice to read a complete story and know it is the end.  Good or bad we know how everything is wrapped up and can move on and not wait months on end for the next piece of the puzzle.  That being said…I would like to know more about this world.  Not necessarily Aya and Kiran, but maybe how it ended up this way.  Maybe a story about Aya's mother or a more in-depth look into the Garden and how it works.
It isn't necessarily a book I might have picked up on my own, then again maybe it is… Anyway, I'm glad I read it, even if it did raise my dander a bit from time to time.  I hope others pick it up and think about the role of women in our society, and others around the world.  Think about how we can work to make this world better for all people and even the playing field for all genders. How to appreciate each other and our differences more and not make assumptions of people based on their gender.
My Rating: 4 Stars