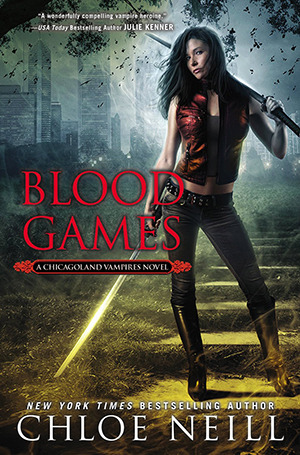 Cover art thanks to Goodreads, click on it to visit book's page there.
Book #1o in the Chicagoland Vampires series: Published 08/05/14
I borrowed a copy of this book from my library.
Author's Site,  Amazon, Barnes & Noble
Book Synopsis:
While Merit didn't choose to become a vampire or Sentinel of Cadogan House, she vowed to fight for her House and its Master, and she's managed to forge strong alliances with powerful supernaturals across Chicago. But even though Merit has had wild adventures, this may be her deadliest yet…

A killer is stalking Chicago, preying on humans and leaving his victims with magical souvenirs. The CPD hasn't been able to track the assailant, and as the body count rises, the city is running out of options. Vampires and humans aren't on great terms, but murder makes for strange bedfellows. Can Merit find the killer before she becomes a target?
My Review:
Ah, what a nice return to a series I've come to love.  I remember needing a break after the last book, but now I'm back in Chicago and thoroughly enjoyed the twists and turns that Ms. Neill dealt us.  I'm so happy that I scored the next book to review so I don't have to wait another six months to find out what happen.
This book was a little slow in the beginning, like the last book, but I think it picked up for me faster than its predecessor.  Again we have drama on multiple fronts; the GP, murders in Chicago, and Merit and Ethan's relationship again.  The plot having to do with Darius and the GP was probably the most shocking turn of event for me.  I was expecting a totally different outcome for that plot line.  I wasn't trilled with the direction I thought is was going, so I am thrilled with the direction Ms. Neill took instead.  This is the part that make me want to jump right into the next book.
Besides the drama between Merit and Ethan, even though we know they are destined to be together forever…, it is nice to see some speed bumps thrown in their path.  If things were too good for them it wouldn't be interesting to read about.  Still I'm ready for Ethan to make an honest woman out of Merit, even if I thought the running gag he keeps pulling on her was hilarious in this book. Speaking of relationships there was also positive development between Mallory and pretty much everyone in this little band of friends.  I'm so happy about that, not that I didn't think Mallory deserved a little time-out on the friendship front, but it is nice to see them as a team again.
Merit's parents were noticeably absent, even to Merit, in this book.  Even her Grandfather had what amounted to almost just cameos in this installment.  I hope Ms. Neill takes some page time to deal with this aspect of Merit's life soon.  I can sense a storm brewing and I look forward to watching the lightning.
Great read and addition to this world.  Chicago as always is almost like another character when I read this series.  It always makes me long to visit and scope out the locations mentioned.  This book was a turning point for this world and fans should not skip this one.  Of to start the next one  I gotta see what happens next!
My Rating: 4 Stars