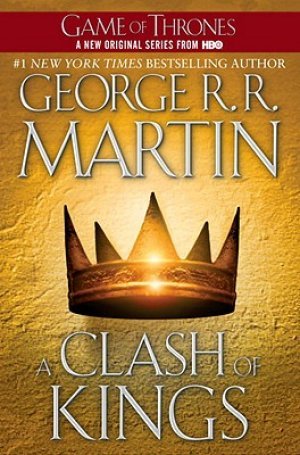 Cover art thanks to goodreads, click on it to visit book's page there.
Book #2  in the A Song of Ice and Fire series, released 5/28/02
I own a print copy of this book
Book Synopsis:
Time is out of joint. The summer of peace and plenty, ten years long, is drawing to a close, and the harsh, chill winter approaches like an angry beast. Two great leaders—Lord Eddard Stark and Robert Baratheon;who held sway over an age of enforced peace are dead…victims of royal treachery. Now, from the ancient citadel of Dragonstone to the forbidding shores of Winterfell, chaos reigns, as pretenders to the Iron Throne of the Seven Kingdoms prepare to stake their claims through tempest, turmoil, and war.

As a prophecy of doom cuts across the sky;a comet the color of blood and flame;six factions struggle for control of a divided land. Eddard;s son Robb has declared himself King in the North. In the south, Joffrey, the heir apparent, rules in name only, victim of the scheming courtiers who teem over King's Landing. Robert's two brothers each seek their own dominion, while a disfavored house turns once more to conquest. And a continent away, an exiled queen, the Mother of Dragons, risks everything to lead her precious brood across a hard hot desert to win back the crown that is rightfully hers.

A Clash of Kings transports us into a magnificent, forgotten land of revelry and revenge, wizardry and wartime. It is a tale in which maidens cavort with madmen, brother plots against brother, and the dead rise to walk in the night. Here a princess masquerades as an orphan boy; a knight of the mind prepares a poison for a treacherous sorceress; and wild men descend from the Mountains of the Moon to ravage the countryside.

Against a backdrop of incest and fratricide, alchemy and murder, the price of glory may be measured in blood. And the spoils of victory may just go to the men and women possessed of the coldest steel…and the coldest hearts. For when rulers clash, all of the land feels the tremors.

Audacious, inventive, brilliantly imagined, A Clash of Kings is a novel of dazzling beauty and boundless enchantment;a tale of pure excitement you will never forget.
My Review:
Whew,  I made it.  Eight days to read this monstrosity and while I am still excited about the series I didn't enjoy this one as much as the last one.  Mainly due to the pacing of the story.  In the middle, things dragged on quite a bit.  I also didn't care that much for the two new character's p.o.v. that were introduced in this book.  One of them, Theon, was quickly added to my list of those-I-want-to-lose-their-head list, and the other I'm kinda ambivalent towards.  Mainly I found his chapters rather boring.  I read them because I didn't want to miss anything important, but I would constantly check to see how many pages were left until we got back to someone I really cared about.
Being new to this author and his writing I foolishly thought we had seen the end of the tearing down of this world and might start to see some rebuilding.  Oh how very wrong I turned out to be.  Martin was no where near done.  The world is quite literally, in some cases, totally destroyed and the deaths of favorite and important characters continue to pile up.  Because Martin is not a safe author to read, you don't know where things are going to go next. He kills off, or makes you think he killed off, protagonists left and right no wonder he has to introduce new players, otherwise who is going to tell the tale of this world.
My opinion of many of the characters remains the same.  Perhaps I have a smidgen of more respect for Sansa.   Arya, Tyrion, Daenerys and Jon continue to be my favorites.  I hope for the next book we see some justice for the characters that have been lost.  Cersei and Joffrey really need to lose their heads…  One other thing that bothered me and brought down the star rating was the out-of-left-field prologue at the beginning of the book.  This really slowed down the title for me.  I was ready to jump right into the action and had to slog through way to many pages before it started.
Even though much of this book was spent going nowhere or destroying the different lordships the story continued to invade my reality.  The work is an excellent study of human nature.  I started to see aspects of the different characters in myself and others around me.  I am learning from this book.  I am learning how much I am like Sansa, wanting to only see the best in others and in life, much to my detriment.  I yearn to be as honorable and strong as others.   Martin is making me think and forcing me to look at my own life and world with different eyes.  I will probably be a bit of a different person when I leave this tale behind.  A good story changes who we are, as it should be, we should always take something with us when we finish a story.  On to the next book then perhaps a break from this world.  I can only live with death and war for so long.  I am going to need to be reading some fluff next month or risk ending up paranoid and seeing spies where ever I go…