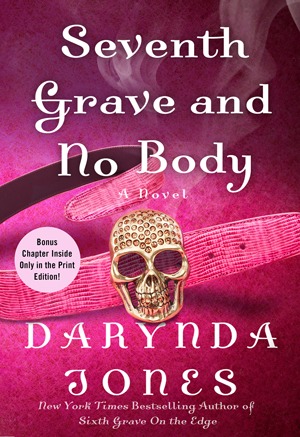 Cover art thanks to Goodreads, click on it to visit book's page there.
Book # 7 in the Charley Davidson series.
I own a copy of this book.
Book Synopsis:
Twelve. Twelve of the deadliest beasts ever forged in the fires of hell have escaped onto our plane, and they want nothing more than to rip out the jugular of Charley Davidson and serve her lifeless, mangled body to Satan for dinner. So there's that. But Charley has more on her plate than a mob of testy hellhounds. For one thing, her father has disappeared, and the more she retraces his last steps, the more she learns he was conducting an investigation of his own, one that has Charley questioning everything she's ever known about him. Add to that an ex-BFF who is haunting her night and day, a rash of suicides that has authorities baffled, and a drop-dead sexy fiancé who has attracted the attentions of a local celebrity, and Charley is not having the best week of her life.

A tad north of hell, a hop, skip, and a jump past the realm of eternity, is a little place called Earth, and Charley Davidson, grim reaper extraordinaire, is determined to do everything in her power to protect it.

We're doomed.
My Review:
I so love Charley and Reyes and the whole gang really.  I just started this series this year and I already want to re-read it.  Last book left me wanting a little, but I was happy to see all the magic was back for book seven.  This was a fun read and the world just keeps getting richer and more complex as we go.  A lot went down in this book for Charley personally and we spent less time on her cases,  they even felt almost like an afterthought in the story.  It feels as if we are on the edge of a major moment in this series and I am so thankful the next book comes out in May.  Any longer of a wait then that and I might have a fit, not really….well maybe a small one.
Great movement on the relationship front with Charley and Reyes.  I like how the author is moving them forward.  We are not stuck in an endless dating cycle, but things still are not perfect H.E.A either.  They still have issues and are working out the boundaries of their life together.  Both of them have issues and need the time to grow.  I wish that could have been done without throwing a baby into the mix, but oh well it often happens in stories.  The baby is changing the story though and I hope it doesn't take things too far.  I fell for Charley and Reyes I don't want everything to revolve around a kid, even thought that looks like the way it is going.
Lots of development in the supporting cast of characters too.  Love Cookie and Ubie together, they are such a great match.  Situation with her father is sad, but not resolved yet and I look forward to seeing what happen there.  I am also digging the character Osh, or the Dealer as he was referred to before.  I hope there is more to come for him, and I would love to learn more about his history.  Also some interesting development with Cookie's daughter, Rocket and Jessica.  All of these players are coming together to form an incredible team to stand at Charley's back in this fight against evil.  The battles yet to come are going to be amazing, especially if Charley grows to understand and unleash her powers.
I don't want to spoil it for anyone, but Ms. Jones did an excellent job again.  Her trademark humor, wit and ability to take us from tears to stitches in a single page was there in all its glory.  This series started off as a bit of fun fluff, but has developed into so much more.  There is real complexity here and a great story of good vs evil and doing the right thing no matter the cost.