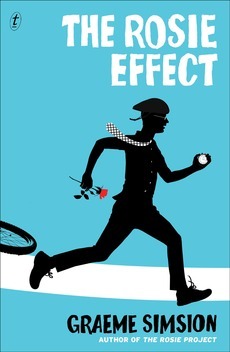 Cover art thanks to Goodreads, click on it to visit book's page there.
Book two in the Don Tillman series: American release date 12/30/14
I received a copy of this book from the publisher through Net Galley for a honest review.
Book Synopsis:
GREETINGS. My name is Don Tillman. I am forty-one years old. I have been married to Rosie Jarman, world's most perfect woman, for ten months and ten days.

Marriage added significant complexity to my life. When we relocated to New York City, Rosie brought three maximum-size suitcases. We abandoned the Standardised Meal System and agreed that sex should not be scheduled in advance.

Then Rosie told me we had 'something to celebrate', and I was faced with a challenge even greater than finding a partner.

I have attempted to follow traditional protocols and have sourced advice from all six of my friends, plus a therapist and the internet.

The result has been a web of deceit. I am now in danger of prosecution, deportation and professional disgrace.

And of losing Rosie forever.
My Review: Warning-minor spoiler.
I enjoyed this book, not as much as the first one, but still I'm glad I read it.  Part of the problem for me, I think, is my disinterest in children and therefore not able to connect with the story line.  Much of the book I found myself looking at the chaos the prospective change the baby was bringing to their lives as reason to validate my decision to abstain from reproducing.  This book was also less fun than previous one.  I spent much of the book worried over the state of Don and Rosie's relationship and did not find much humor in what was going on.  Again it was a good story, but more of a serious sitting-on-edge-of-seat kind of read then a funny outrageous crazy drama filled ride.
The characters where much the same from the previous book, we have a few new faces, most of them I liked, a couple of them I wanted to smack.  The character of Lydia was a particularly unpleasant character that I took an instant dislike to and never found reason to change my opinion of throughout the entire book.  Rosie also got on my nerves a little bit in this book.  In my opinion the character is in need of some serious counselling and I place all of the drama squarely on her shoulders for introducing a child into their marriage without consulting all parties involved.  What she did was not fair to Don or the baby, and unfortunately she never really has to answer for her transgressions in the story.  Also for as much drama that she incited she was notably absent from much of the story.
I was sad to see the state of Gene and Claudia's relationship in this book, but think the outcome was probably unavoidable.  It was also interesting to see Don interact with his father and I can kind of see where he gets his quirks from.  I think the character of Don is under appreciated by his friends, and it isn't until after the fact that they see all the ways he has contributed to their lives.  The book was also a great example of the need to be honest and open with those we care about.  Much of these character's problems would have been moot if they had just communicated honestly with each other and been upfront with their needs.  I think there is much we could learn from Don.
Like I said I enjoyed the book.  It was a fun read, but not quite what I was expecting.  The characters are growing, and I found myself worried for much of the book that things would not end well for this unconventional couple.  I hope the author continues the series.  I would like to see what happen's next in Don's world.