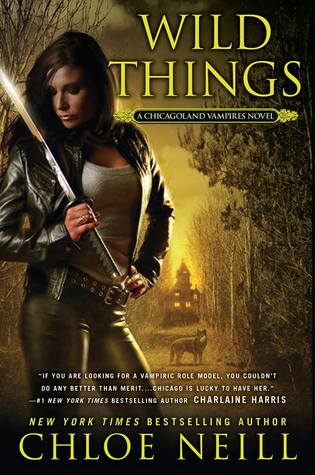 Cover art thanks to Goodreads, click on it to visit book's page there.
Book #9 in the Chicagoland Vampires series.
I borrowed this book from my library.
Book Synopsis:
Since Merit was turned into a vampire, and the protector of Chicago's Cadogan House, it's been a wild ride. She and Master vampire Ethan Sullivan have helped make Cadogan's vampires the strongest in North America, and forged ties with paranormal folk of all breeds and creeds, living or dead…or both.

But now those alliances are about to be tested. A strange and twisted magic has ripped through the North American Central Pack, and Merit's closest friends are caught in the crosshairs. Gabriel Keene, the Pack Apex, looks to Merit and Ethan for help. But who—or what—could possibly be powerful enough to out-magic a shifter?

Merit is about to go toe to toe, and cold steel to cold heart, to find out.
My Review:
I'm thinking this is a good time to take a break from the series.  It seems to be headed in a new direction starting in the next book and this is a good stopping point for now.  I'm looking forward to seeing where the world goes next, but I need to read some other genres or authors for a few books.  This book was good, but the beginning didn't grab me.  It wasn't until halfway through that I was able to sit down and not become distracted enough to finish it.
This book introduced some new elements to the world and some potential problems or bumps in the road ahead for Merit and Ethan's relationship.  Merit's family takes a back burner role in this book and we have to deal with the drama the current Mayor is stirring up for the supernatural of Chicago.  The GP rears its ugly mean vindictive head again and I see hope that there will be changes coming for them in the near future.  Mallory and Catcher are back to their old selves and it appears Merit and Mallory's relationship is going to come out stronger than ever.
Seth Tate comes back in this book and I like the direction that the author is taking with his character.  I look forward to seeing how he redeems himself.   One thing I love about Neill's story telling style is that she is able to take a character we think we are done with and bring him back and make them even more interesting.  Her characters have great depth, you never really can tell what is going to come from them.  Keeps you guessing and makes the stories so enjoyable and plausible.
Like I said I'm looking forward to the next books, but after a little break.  It feels like I've been stuck in Chicago for a while now, time to explore some other worlds again.