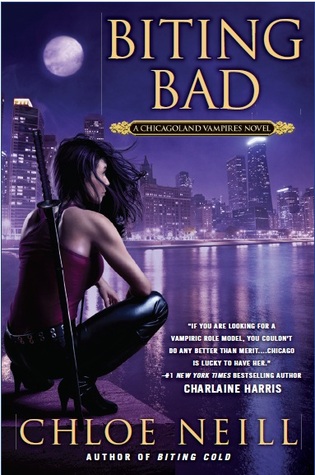 Cover art thanks to Goodreads, click on it to visit book's page there.
Book #8 in the Chicagoland Vampires Series
I borrowed this book from my library
Book Synopsis:
Merit has been a vampire for only a short while, but she's already seen a lifetime's worth of trouble. She and her Master, centuries-old Ethan Sullivan, have risked their lives time and again to save the city they love. But not all of Chicago is loving them back.

Anti-vampire riots are erupting all over town, striking vampires where it hurts the most. A splinter group armed with Molotov cocktails and deep-seated hate is intent on clearing the fanged from the Windy City come hell or high water.

Merit and her allies rush to figure out who's behind the attacks, who will be targeted next, and whether there's any way to stop the wanton destruction. The battle for Chicago is just beginning, and Merit is running out of time.
My Review:
Freaking cliffhangers.  Damn lucky I have the next one waiting for me at work, otherwise I would be one ticked off reader…  The book was a little slow for me to get into, but that was mainly due to outside influences rather than the book being bad.  This was actually an action packed contribution to this long-standing series.  I loved the movement in the McKetrick plot line, somehow I still think we probably haven't seen the last of him.  We also had a lot of development with the GP and was thrilled to see one its members get what they deserved.
Was shocked about what happen with Merit's Grandfather and am suspicious of her father, although the scene with Merit's family including Ethan was a lot of fun.  I also have high hopes for Mallory's future and he being a productive member of this society.  There is also some hints to Merit and Ethan's relationship taking a next step.  Not sure how I feel about it.  I think they are fine how they are, no need to change what isn't broke.  Then again a big marriage might be fun and a good setting for lots of vampire drama.
One more book and then I need to take a break from the series.  Think it is about time anyway,  I need to take a breather from this world for a while.  While I still enjoy the series, I'm not as excited as I was a few books ago.  This tells me it is time to read something else.