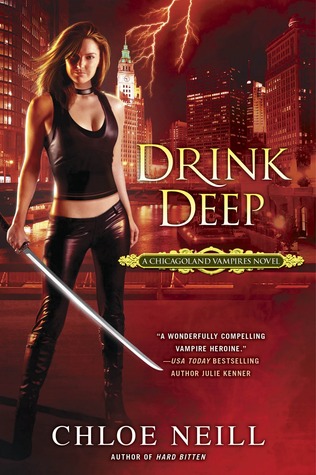 Cover art thanks to Goodreads, click on it to visit book's page there.
Book #5 in the Chicagoland Vampire's Series.
I borrowed this book from my library.
Most likely their will be spoilers
Book Synopsis:
Clouds are brewing over Cadogan House, and recently turned vampire Merit can't tell if this is the darkness before the dawn or the calm before the storm. With the city iself in turmoil over paranormals and the state threatening to pass a paranormal registration act, times haven't been this precarious for vampires since they came out of the closet. If only they could lay low for a bit, and let the mortals calm down.

That's when the waters of Lake Michigan suddenly turn pitch black-and things really start getting ugly.

Chicago's mayor insists it's nothing to worry about, but Merit knows only the darkest magic could have woven a spell powerful enough to change the very fabric of nature. She'll have to turn to friends old and new to find out who's behind this, and stop them before it's too late for vampires and humans alike.
My Review:
A little calmer after reading this addition to this very addictive series.  I'm not sure if I love or hate this author.  She has this power over my emotions and seems to love to play with her characters and thus keeps me in limbo.  Just when you think you know where the series is going she shakes things us and up is down, left is right and suddenly the best friend is the harbinger of evil.
Yes you heard me right.  Best friend Mallory has being turned to the dark side and become addicted to black magic and turned against Merit.  I must say this one didn't surprise me all that much.  Merit and Mallory have had kinda an up and down relationship since Merit was turned and Mallory discovered she was a sorceress.  Still though,  I am surprised at how far Neill took the character over to the dark side.  Much of this story line is going to be continued in the next book, which thankfully is sitting right here next to my computer as I type this.
Other shocking news in this book, Ethan is back.  I was so upset over his loose in the last book, and after reading another's review and the synopsis of future books,  I did know he was coming back.  I'm not sure if I'm glad he was brought back so soon, or if I would have rather Merit have to learn to stand on her own for a couple of book.  I almost think it diminishes the pain we went through in the last book to bring him back at all. As if Neill did so to appease her fans.  Don't get me wrong, I'm happy to see him, and I still want Merit and him to have a future together, I just think Merit could have grown more as a character without Ethan around for a couple of books.  You could really see in this book how much she depended on him,  he was her crutch,  she needs to learn to stand without him. But he is back now and I hope the teasing of a relationship is over and the author just puts them together now.
Other major plot line through this book was this nonsense with the GP.  What a messed up organization.  I seriously hope they tell them to go to hell and Merit ends up taking them down one member at a time.  There is also a new bad guy introduced in this book.  The new mayor is practically a right-wing poster child and is being manipulated by the psychopath McKetrick who was introduced in the last book.  His character is a little over the top with cliques, but manages to serve his purpose.  Quite frankly I hope he ends up getting his ass turned.  Would serve him right to become what he is trying to destroy.
Well off to start the next book.